Free Team Perks Item
During the month of October, Team Perks members get a FREE bag of Food Club 3-9 oz. peg-bag candy with any purchase. This offer is valid October 1 – 31 and will automatically be deducted at checkout when you use your Team Perks phone number. Limit one per team member. Click here to see a full list of included items. 
Team member discounts or free items cannot be redeemed on Rosie eCommerce or Skip orders. Team Perks discounts are not valid at the Macey's Santaquin location.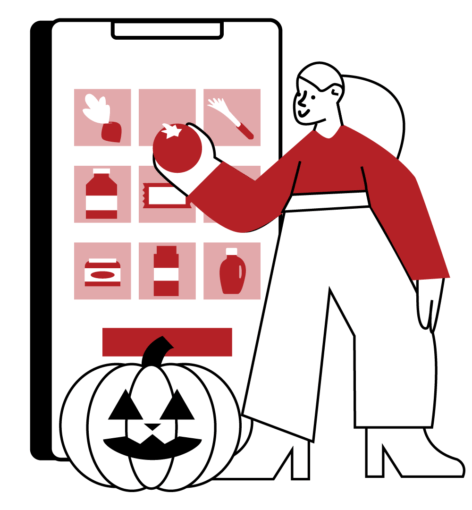 Shop Online and Save!
Shop online and save! Use promo code TEAM10 to receive 10% off your next order you shop any of our convenient Macey's Anywhere, Lin's to Go, Fresh Market to Go, Dick's Market Online, or Dan's to Go locations.
Valid for team members only. Limit one use per team member. Offer October 1-31, 2021. Valid for Pickup or Delivery (where available) Offer not valid with Shipt orders. Cannot be combined with other offers. 
A full list of participating items is below.
UPC
AFS Item
Item Description
3680048248
3141462
FC BUTTERSCOTCH DISC PEG
3680048236
3141421
FC STARLIGHT MINT PEG
3680048231
3141827
FC PEPPERMINT TWISTS PEG
3680048230
3141728
FC PARTY MINT PEG
3680048237
3141488
FC STARLIGHT MINT SPEARMINT PEG
3680048233
3141629
FC RAINBOW SOUR BELTS PEG
3680048264
3141660
FC PECTIN JELLY
3680048249
3141470
FC CANDY CORN PEG
3680048258
3141546
FC CIRCUS PEANUTS PEG
3680048229
3141603
FC ORANGE SLICE PEG
3680048251
3141652
FC CHERRY SOURS PEG
3680048252
3141553
FC CINNAMON BEAR PEG
3680048241
3141850
FC CARAMEL SEA SALT PEG
3680048263
3142296
FC GUMMY AWESOME BLOSSOM
3680048266
3141694
FC GUMMI ORANGE CREM BEAR PEG
3680048260
3141678
FC  GUMMI PEACH RING PEG
3680048261
3141843
FC GUMMI WATERMELON RING PEG
3680048259
3141785
FC GUMMI ASSORTED JUJU FISH PEG
3680048265
3141686
CANDY GUMMY SHARKS
3680048267
3141835
FC HARD CANDY PARTY MIX PEG
3680048240
3141637
FC ROOT BEER BARRELS SUGAR FREE PEG
3680048253
3141496
FC FRENCH BURNT PEANUTS PEG
3680048256
3141512
FC GUMMI BEARS PEG
3680048257
3141520
FC GUMMI WORM PEG
3680048234
3141793
FC SOUR GUMMI WORM PEG
3680048235
3141504
FC SPICE DROP PEG
3680048250
3141538
FC CHERRY SLICE PEG
3680048246
3141447
FC FRUIT SLICES ASST PEG
3680048255
3141454
FC GUM DROP PEG
3680048254
3141801
FC SOUR WATERMELON SLICES PEG
3680048243
3142270
FC LEMON SOUR PEG
3680048265
3141686
CANDY GUMMY SHARKS
3680048247
3141645
FC GOURMET JELLY BEANS ASST PEG
3680048268
3141819
FCASSRTD LICORICE – PEG
3680048474
3142650
FC BRIDGE MIX – PEG
3680048466
3142635
FC CHOC PEANUTS- PEG
3680048481
3142668
FC CHOC CINNAMON BEAR
3680048464
3142627
FC PEANUT CLUSTER PEG
3680048470
3142643
FC CHOC RAISINS -PEG