New Product Alert: Red Button Vintage Creamery Seasonal Candies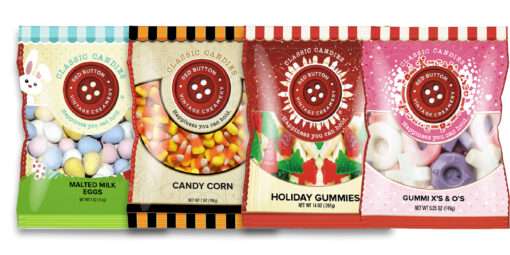 You may have noticed that Red Button Vintage Creamery has featured some new seasonal candies. First launched for Christmas, the new offering sold out of the product at the AFS warehouse for Valentine's Day. Since we have introduced seasonal candy varieties for Easter and Halloween with peg and lay down bag options.  
Here are all the candy options Red Button Vintage Creamery is offering for seasonal candies, that you can watch for at a store near you!  
Valentine's:
RED BUTTON SOUR SANDED HEARTS
RED BUTTON GUMMI X'S AND O'S
RED BUTTON CINNAMON JELLY HEARTS
RED BUTTON CHERRY JELLY HEARTS
RED BUTTON  JUJU HEARTS
RED BUTTON VAL. CHERRY SOURS
RED BUTTON LG CONVERSATION HRTS
RED BUTTON SM CONVERSATION HRTS
RED BUTTON SEA SALT CARAMEL HEARTS
Easter:
RB JELLY BIRD EGGS 
RB BLACK JELLY BEANS
RB SPECKLED JELLY BEANS
RB SPICED JELLY BEANS
RB AWESOME BLOSSOM
RB GUMMI BUTTERFLIES
RB EASTER PASTEL PRETZELS
RB FRUIT BASKET PRETZELS
RB EASTER CANDY CORN
RB SEA SALT CARAMEL EGGS
RB MALTED MILK EGGS
RB FOIL WRAPPED CHOCOLATE EGGS
Halloween:
SOUR JELLY PUMPKINS
O & B GUMMI WORMS
GUMMI SPOOKTACULAR MIX
PUMPKIN PIE PRETZELS
PUMPKIN PIE ALMONDS
CANDY CORN
CREAM PUMPKINS
HARVEST CORN
AUTUMN MIX
O & B SPICE DROPS
Food Holiday Savings with Exclusive Brands 
There are more exciting savings you can cash in on this week with Exclusive Brands' national food holidays. Don't miss these three great offers! Use your phone number at checkout at a participating AFS retailer to redeem.  
National Crunchy Taco Day Mar 21st: Rewards Offer: Buy Food Club 16oz Salsa, Food Club 12ct Taco Shells, or Food Club 12oz Jalapenos for $0.99 Limit 3, Mar 19-21