First AFS Tech Summit Brings Partners Together to Galvanize Retail-Focused Efforts 
On October 18 and 19, AFS IT and Marketing hosted several of the company's key shopper-facing technology partners in Salt Lake City. Technology partners included BRdata, eComSystems, Rosie/Instacart, and RORC in this first-of-a-kind gathering. The goal for the meeting was to bring these important partners together, in person, to align visions around the shopper experience AFS is building for its member retailers; brainstorm and challenge one another on what opportunities we have and how to get there, and prioritize joint/individual development paths to help the group quickly move together as a cohesive team.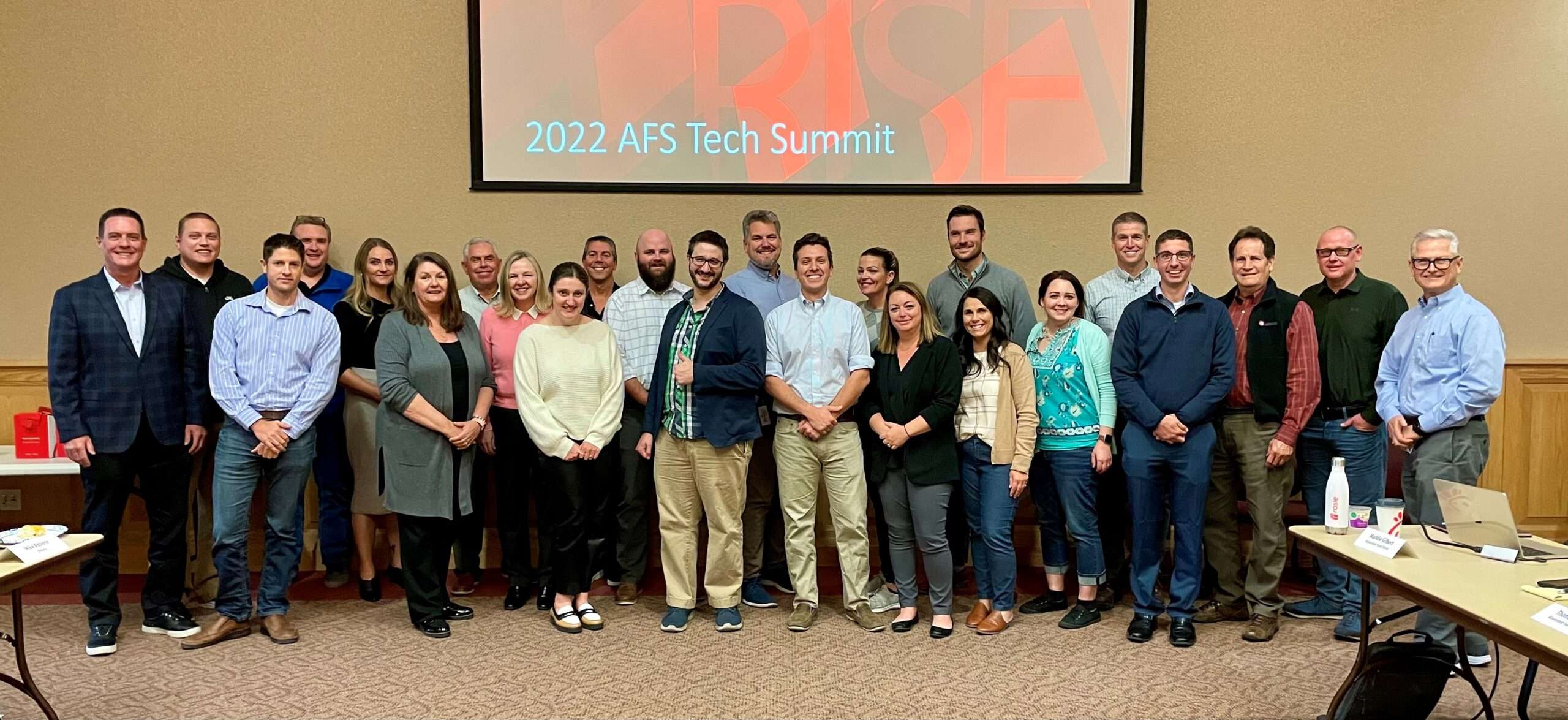 "What impressed me most about the Summit was the level of commitment and passion these partners have for AFS and our independent retailers," said Jason Sokol, vice president of marketing. "Over the two-day event, each of the partner companies and AFS team members who attended worked from dawn to dusk to work through current challenges and build great solutions."  
"AFS has great partners and it is amazing to find technology companies that are so willing to invest the resources and expertise," said Wade Judd, chief information officer. "Working as part of a cooperative is challenging for many technology companies. It requires the companies involved be willing to customize their solutions to a large degree. Each retailer is unique and that means the partner company must be willing to adapt to that environment."  
"Wade's point is critical," said Jason. "It is one thing for a grocery store or chain to adopt technology, but when you have more than 400 independent grocers operating together across such a wide range of communities and geographies, like AFS, those solutions must adapt to some degree. Additionally, most technology solutions are not built for the wholesaler environment, especially one like AFS." 
Wade shared, "When we adopt a solution, we must work with companies that are willing to help us, the wholesaler, integrate the solution with other technologies we have in place and develop their solution in a way that helps us gain visibility to the data. Our goal as we work with partners is to not only meet the needs of our retailers but also help improve the partners' solutions."  
As AFS continues down the "shopper first" path, it is critical the partners are evolving their solutions and data sharing to help AFS and the total system work as one cohesive team. 
On day one, the teams worked through two massive topics – single-sign-on/open auth and omnichannel retail.  
"We are close to having Single Sign On (SSO) via OAuth completed," said Michael Ryzewic, from Rosie/Instacart. "AFS' retailers are about to have the capability to radically improve how their shoppers interact with their various digital experiences. Going forward, they will only need to log in once, with one username and password, to access everything – from websites and apps to rewards and e-commerce. It is going to be a tremendous experience."  
The group left the meeting committed to having a working site on SSO by Dec. 1. 
The teams spent the rest of the first day focused on how they can provide consistent experiences, starting in-store and moving out to various digital experiences. The topics ranged from omni-payments (the ability to accept most/many modern payment methods) across all checkout points – from traditional checkouts to self-checkouts, from their store website to store e-commerce sites. Additional omnichannel discussions included omni-shopper feedback, continued efforts to improve checkout efficiencies, giving shoppers the ability to have a consistent rewards experience regardless of where they are checking out and the ability to use gift cards in diverse ways. 
John Abene, marketing vice president for BRdata shared, "This event was unusual but very welcome. There are no other wholesalers doing what AFS did here. Our team loved it and cannot wait for next year's meeting." 
The team also spent time talking through the "connected stores" concept. Additionally, the group spent considerable time strategizing how AFS and its technology partners can work together to help stores adapt to the labor market and other current challenges. 
On day two, the teams focused time and efforts on shopper personalization. This was an opportunity for AFS rewards and marketing teams to share how AFS will help its retailers transform store websites, apps, e-commerce sites, email and other shopper-facing experiences and do so in a way that is far more tailored to shopper purchasing behavior and buying habits to drive additional relevance and sales.  
"Providing retailers with information to make informed business decisions and to personalize the shopper experience is more critical than ever," said Jon Evans, CEO of eComSystems. "It's exciting to be part of such an amazing group and to be solving these challenges for AFS' independent grocers."  
"It was an amazing experience. AFS is great to work with and their retailers are fortunate to have teams that are actively solving these challenges for them," said Lori Brown, head of industry and customer development at Rosie/Instacart. This was an unusual event and AFS has taken a different approach to shopper-facing technologies. Most wholesalers vet out a few solutions, add markups to their pricing and then let them loose with their retailers – a very tough model that leaves the retailers on their own to figure out a lot of often highly technical and complicated integration efforts." 
Steve Methvin, vice president of product development at Dumac, summarized the two-day event well, "This was an unusual and uncommon event. You had a bunch of highly competent and passionate, independent-minded technology partners in one room innovating and problem-solving with one another. It was incredible to participate." 
AFS hopes to make this an annual event and the IT and marketing teams are currently evaluating the time and gathering feedback from the attendees. 
"It was a true example of what 'One Associated' means," said Jason. "We're thrilled about the progress and excited to continue our momentum."