Retailer Connection Meetings Occur in Idaho and Utah 
AFS has a long tradition of holding regional meetings throughout the company's trade area to ensure AFS Members and AFS Executive Team members have frequent interaction. Two years ago, the meetings were interrupted by COVID-19, but the events are back for the second year in a row and participation has been high thus far including last week's meeting in Salt Lake City. 
The meeting began with an introduction from new President and CEO David Rice. While many in attendance know Dave, he shared insightful background information and discussed the vision for the company moving forward.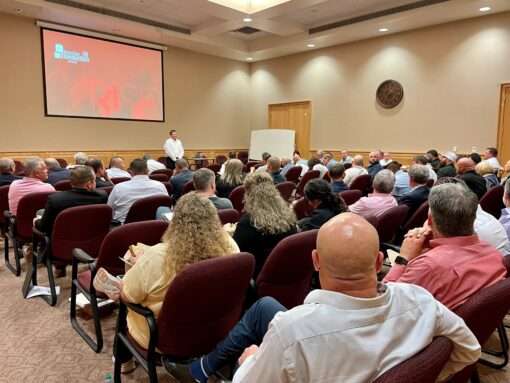 In addition to Dave, two retailers shared presentations. The first presentation was provided by Kati Calhoun from Kent's. Kati shared how Kent's sets and achieves goals utilizing the New Vistas principles in their stores. Following Kati, Brandon Peterson from Peterson's shared how his store has made the most of their meat sales through a concerted effort by the store team and the AFS sales specialists. Both presentations were well received and provided valuable ideas to the other participating retailers. 
Following the retail presentations, company leaders gave updates on topics including driving retail sales, technology opportunities, centralized production, warehouse modernization and supply updates.  
"We know communication is so important for us and for our member-owners," said David Rice, CEO. "The time we have to listen to ideas and to answer questions from retailers is critical to our efforts to continually improve. We appreciate knowing what's working well and what opportunities we have to be even better." 
Dave and other members of the AFS Executive Team have traveled to Colorado, Montana, Idaho and Salt Lake City. Stops in St. George, Utah and Elko, Nevada will finalize the series of meetings. Along with the meetings, Dave and other executives have visited member stores along the way. 
For more information, retailers and team members can visit the Retailer Connection page on StoreLink. The page contains brief, insightful videos that provide additional detail on important, retail-focused subjects. Retailers who are not able to attend in person are encouraged to visit the page.