The Challenge  
Associated Food Stores (AFS) supplies over 450 independently owned retail supermarkets throughout the mountain west region of the United States. While the cooperative fully owns and manages 36 of its supermarket locations, it also serves as a micro-agency for roughly 80 external stores that have individually opted-in to receive AFS services such as social media posting, social media monitoring, and media asset production. 
While grocery stores have traditionally relied heavily on print marketing initiatives, Associated Food Stores has rapidly embraced digital marketing through its growing number of Google My Business campaigns and social media strategies on Instagram and Facebook.  
With that, the AFS team has encountered digital marketing obstacles since ramping up its online efforts. In particular, siloed workflows emerged as the team was spread across multiple platforms managing social posting, social monitoring, and Meta ad campaigns among other daily workloads.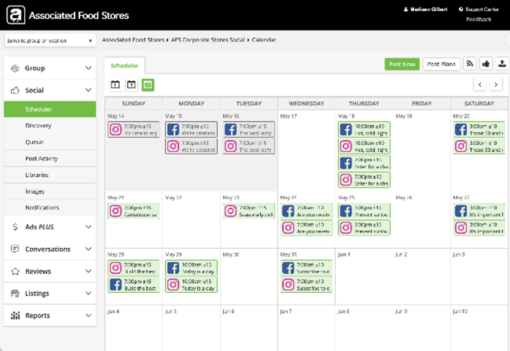 "Our usage of multiple platforms was not ideal. We were logging in and out of accounts, and we were failing to implement the checks and balances that are integral to our social strategy because we were so spread out as an organization. Now that everything is consolidated into one platform, we have a much more ideal workflow."  
– Maddie Gilbert, director of marketing, Associated Food Stores 
The Solution 
Through partnering with SOCi, AFS has accelerated efficiencies across the organization and now manages and executes projects across more brands than ever before by leveraging SOCi Reviews, Listings Advanced, Social, Local Pages, and Ads Plus. SOCi has provided AFS the ability to set engagement goals and strategy, streamline social media posting, and ensure ad campaigns are optimized across all locations.  
Through its localized social strategy, AFS aims to grow its stores' social media following to account for 15 percent of the local population for each supermarket. The AFS team also strives to schedule three social posts per week, per location, and now has the capacity to create custom content that can be used across all supermarkets. 
With SOCi's social capabilities, the team has expanded its bandwidth for content creation and consistently meet its social posting goals, which has helped augment follower growth. The AFS team is also more agile now across all their social and ad channels, which has supported comprehensive strategies such as comment monitoring, allowing the team to gain a better understanding of how local communities feel about the pricing structures of their storefronts.   
SOCi Results 
When evaluating marketing performance across its supermarkets, AFS determines success based on conversion rate. To increase conversions, supermarkets must understand the local sentiment of their brand and make adjustments accordingly. 
Since implementing SOCi to increase local buy-in, AFS has seen significant increases in social reach, website traffic, and Google visits across most of its supermarkets. In their last quarterly business review, AFS saw the following improvements:  
Social engagements for Facebook and Instagram increased 90% quarter over quarter

 

Facebook page reach increased 14% quarter over quarter

 

Instagram page reach increased 35% quarter over quarter

 

Instagram impressions increased 35% quarter over quarter

 

89% of reviews were responded to in less than 24 to 48 hours

 
Google Business Profile impressions improved 11% quarter over quarter

 

Google Maps impressions increased 19% quarter over quarter

 

Website visits increased 12% quarter over quarter

 

Calls from the Google Business Profile increased 36% quarter over quarter

 
"We are extremely efficient given how many independent retailers we are servicing through SOCi. We're able to distribute quite a bit of content – on average, we post three times per day per retailer. We're able to provide a wide variety of content to our retailers that we are posting on their behalf. The retailers can always approve or reject content as they see fit. Overall, this system has proven to be very effective," said Maddie.