AFS' Best-Selling Halloween Candy Is…? 
For the center store and general merchandise teams, Halloween signifies an important change in seasons and guests are excited and encouraged to celebrate the arrival of fall by supporting their local grocer. 
Store-level general merchandise managers begin their preparations in February when they attend the GM seasonal show hosted by Gordon Sanders and his team at the AFS corporate office. The show allows stores to get a first-hand look at what products they want to carry for the fall and winter holidays. Stores also receive training and ideas for how to best merchandise product during these holidays.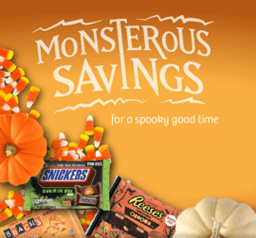 "Merchandising is a key component to have a successful sales event," said Mike Cameron, center store sales manager. "Great-looking displays set the tone for a fun store atmosphere and encourage sales." 
While there is a large variety of holiday-themed products, candy is the most popular offering. Mike reports that the top-selling candy by unit is Brach's Candy Corn while the top-selling item by volume is Tootsie Roll Child's play. On the general merchandise side, pumpkin-carving kits outsell any other GM item. 
Like all other sales efforts, it takes the entire Associated Food Stores' team to create and execute a Halloween sales event. 
"We appreciate Gordon Sanders and Lisa Dall for putting outstanding seasonal shows together," said Mike. "It all starts with item selection and they do a fantastic job. We also appreciate Chad Christensen who puts an excellent Halloween candy event together. Our seasonal programs are first rate and make us competitive in the markets we serve. Finally, we are very grateful for our store teams for getting great orders in, creating great-looking displays and getting us profitable sales."