Bakery Team Delivers Top-Selling Treat and Other Halloween Magic
While all departments benefit from the increased traffic during Halloween, the bakery team is especially prepared to make the most of the hauntedly happening holiday.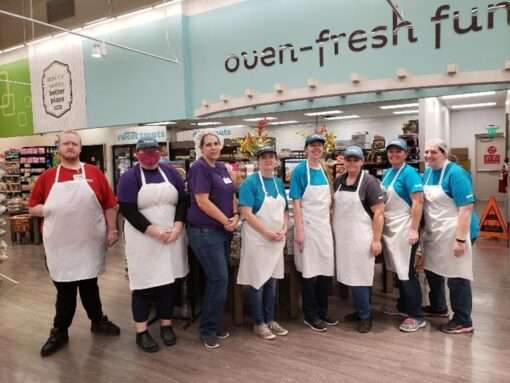 For the bakery team, preparation for Halloween begins in April when team members begin planning ad items and prepare the holiday pre-booking information. Dan Hilgenberg, Deann Murillo, Taunia Fackrell, Heather Egan, Nichole Flatt and Jill Carter and others are involved in the various steps. This year, the team even developed a "hype video" to create additional excitement for pumpkin season. (Visit the bakery page on StoreLink to watch the entertaining video.)
"Halloween is when the bakery gets to shine with all our tasty tempting fall treats, said Jill, ARO bakery sales manager. "Let's face it, what is Halloween without a delicious, glazed doughnut from one of our stores?"
The bakery team understands the importance of great planning, communication, creativity and merchandising.
"Merchandising is key. We love to be front and center in the store as guests walk in," said Jill. "We aim to capture their attention with all our baked goods. Bakery really sets the atmosphere for the holiday starting with the bright-colored sprinkles on doughnuts, cakes, cupcakes and more."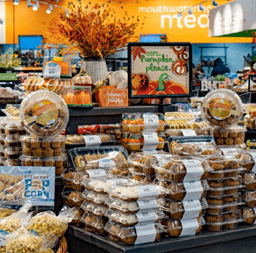 The efforts by store teams to merchandise and sell Halloween solutions makes a big difference. Top-selling items include bread bowls (pumpkin bread bowls in stores that bake from scratch), pumpkin cut- out sugar cookies, "do-it-yourself" sprinkles and icing, pumpkin chocolate chip cookies, cupcakes and other items. The top-selling item…pumpkin chocolate chip cookies.
When asked about surprises this year, Jill reports the number of special orders are particularly impressive. Guests are calling the night before with 200-quantity doughnut orders or 100 bread bowl requests and the store teams deliver.
"All the magic of Halloween couldn't happen without the hard work, passion, dedication, creativity and talent of our bakery managers and teams," said Jill. "The endless hours of hard work, that start at 2 a.m. every morning, are challenging but our teams show up and come through with flying colors. Dan, Taunia, Heather, Nicole and the distribution teams plan, deliver product and so much more. At ARO, Emma Nichols and Kelly Rogers go above and beyond. Our vendors are wonderful. It takes so many and everyone is so great to help."
Along with the bakery sales and store teams, marketing and advertising teams ensure word gets out with digital and print materials to highlight the season's specialties.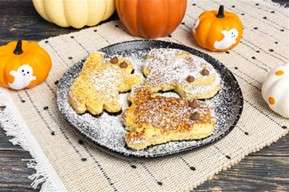 "Our overall goal for Halloween was to give the stores a cohesive, festive theme that could be used across all in-store departments and in our digital marketing," said Jade Romano, marketing specialist. "We chose 'Monsterous Savings' and gave each department a different monster. In addition to promoting all the fun seasonal pumpkin items in the bakery, we also promoted ways to make our delicious everyday bakery items festive. We highlighted ad items and recipes for 'French Ghost' and 'Boo Bagels'. We want guests to remember we have great bakery items for every day but also show them the creative ways to make these delicious offerings festive for the holidays."