According to the National Retail Federation's annual survey conducted by Prosper Insights & Analytics, Halloween spending is set to reach an all-time high, projected at a staggering $12.2 billion, surpassing last year's record of $10.6 billion.  A whopping 73% of people, will join in on Halloween festivities this year, a significant increase from the 69% participation rate in 2022.
The most popular ways people plan to celebrate Halloween remain consistent, with 68% of people excited to hand out candies, 53% eager to adorn their homes and yards with delightful decorations and 50% ready to dress up in their favorite costumes
Individual Halloween spending is on the rise, with each person expected to spend an impressive $108.24, breaking the previous record of $102.74 set in 2021.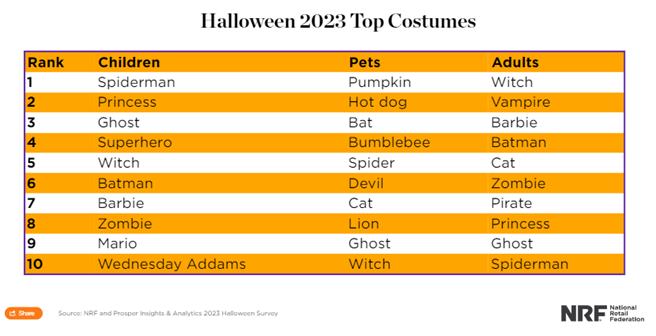 Candy spending is set to hit $3.6 billion, an increase from the $3.1 billion spent last year. Spending on Halloween greeting cards is projected at $500 million, a slight dip from the $600 million reported in 2022 but remaining above pre-pandemic levels.
Spending on adult costumes is expected to increase by 18% over last year, reaching a total of $2 billion, while spending on children's costumes is projected to grow by 20% from 2022, totaling $1.4 billion. Spending on pet costumes is also holding strong at a projected $700 million, mirroring last year's figures.
For children, the top costume choices include Spiderman, favorite princesses, ghosts, superheroes, and witches. Adults are getting creative with witch, vampire, Barbie, Batman, and cat costumes. Even pets are getting in on the fun with pumpkin, hot dog, bat, bumblebee, and spider costumes taking the lead.
As pop culture continues to strongly influence this spooky season, expect to see a surge in costumes inspired by this year's blockbuster movies and shows.
With these high numbers, opportunities for sales at Associated Food Stores' members were significant and teams throughout AFS' membership are making the most of the opportunities.