Editor's Note 
The article below is the first in a new series. Each month a member of the senior executive team will share thoughts, ideas and stories with the team and retailers. We hope you enjoy getting to know them better.
Three Marketing Lessons from a Dog Named Mocha
Jason Sokol 
Vice President of Marketing 
This is my dog. Her name is Mocha. She is a mix of Lab, Australian Shepherd and a little German Shepherd. We love her and she is very much a part of our little family.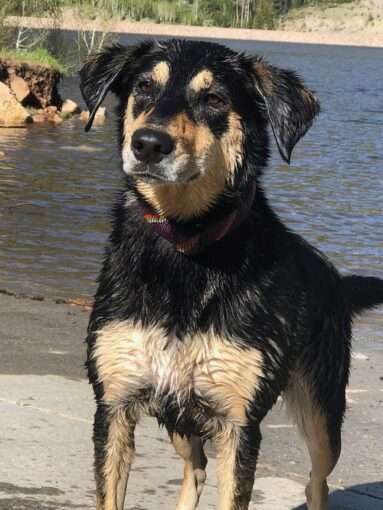 My wife, Cassie, treats her like one of the kids. My girls, Abby and Izzy, treat her like a dog and do a pretty good job of pitching in to help take care of her. Mocha is my camping, hiking and running buddy.
We've had Mocha for just over two years. She is amazing and so much fun. Cassie and I got her because our daughters were going more frequently to friends' homes and often, their friends had pets. (So yes, peer pressure is real.) My daughters were frequently scared or intimidated by their friends' pets, so we decided it was time to help them overcome their fears. (By the way, it worked – they now love dogs and are constantly asking about other potential pets.) 
This may seem like a strange connection, but there are many marketing lessons you can learn from a little dog named Mocha: 
Mocha has a unique personality, and she is not afraid to show it. We got her from a young family that was moving to Nevada and could not take her with them. So, what does this have to do with marketing and grocery stores?  
You must be authentic and have a personality/story. Shoppers care deeply about local and doing business with locally owned and operated businesses. This is why putting your store team front and center, as part of the experience, is key as an independent grocer. Also, you need to be willing to share your story and history. 
Mocha knows a few tricks and does them very well.  
As a grocer, you cannot be everything to everyone. Trying to do this is a losing proposition. By embracing a few key things that shoppers really care about (hint: local, produce, and service) and doing them better than anyone else, you can stand out far better than any national competitors. Choose two or three important "tricks," go all-in on them and do them better than your competitors. 
Mocha comes to us when she needs something. When she needs to go outside, she either rings a bell we have next to the door, or she comes and nudges Cassie or me. When she wants to play, she grabs a ball or frisbee and drops it in your lap (Be warned – don't fall for this trick or you'll end up playing catch for hours).  
In today's day and age, you are competing with every imaginable retailer, whether brick and mortar or online, for your shoppers' attention. You cannot wait and hope they come to you. You must go to the shoppers where they are. Today's shoppers are spending tons of time using digital media and you must be using modern, digital marketing tools to reach them on a consistent basis. 
There you have it – three important learnings from a dog named Mocha that can be applied to marketing a grocery store. These three things may seem simple, but they can be difficult to accomplish. They take commitment, focus and hard work. (Much like teaching a dog how to really play frisbee). When done right, you end up with a dog you love and a grocery store where shoppers will truly want to shop.
If any of these marketing ideas hit home for you, or if you simply want to share pet stories, feel free to contact me at jwsokol@afstores.com.