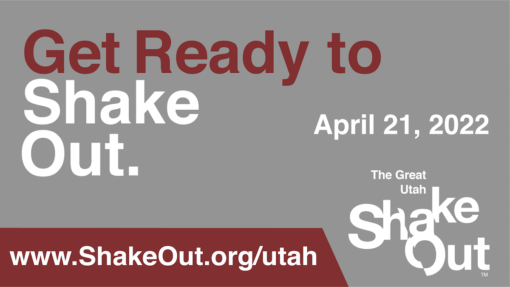 Utah is located on the Wasatch Fault – a 240-mile-long active fault that stretches along the Wasatch Mountains between Utah and Idaho. According to the University of Utah seismograph stations, Utah has about 1,500 earthquakes each year and while only 2 percent of those are felt, it is important to be prepared.  
The first Utah Shakeout was held in April of 2012 and had the highest level (per capita) participation of any ShakeOut with more than 940,000 Utahns participating, including Associated Food Stores and the company has participated in it every year since.  
On Thursday, April 21, the 2022 Utah ShakeOut will take place and once again AFS will participate.
"Safety is number one on our Compass for Excellence and a big part of that is making sure our team members are safe," shared Dave Karpowitz, AFS Safety Manager.
Dave is head of the AFS Safety Council which is made up of members from across the company including Kendall Seegmiller, the Sr. Maintenance Mechanic at the Corporate Office. "Kendall works closely to make sure the fire alarms work correctly and that all water, gas and electrical utilities are checked and safe," Dave continued.  
The drill will take place at 10:15 a.m. Thursday morning. All team members will cover under their desks or doorways for about 10 seconds until the alarm is silenced. They will then move to their assigned outside meeting place and wait for further instruction from their team captains. See Insite for more details.  
Team members are also encouraged to register to take part in the ShakeOut by visiting shakeout.org/Utah.  
As part of the ShakeOut this year, AFS offers team members an opportunity to order emergency prepared items from Augason Farms. "We are really excited about this. Augason Farms is not currently accepting orders, so I hope the team takes advantage of this," said Dave. The order form can be found here. All orders need to be sent to Dave Karpowitz at drkarpowitz@afstores.com by April 29.