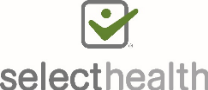 FOR IMMEDIATE RELEASE
SelectHealth and Associated Food Stores
create can display that's out of this world
Companies donate more than $1,617 in food to benefit Utah food insecurity
Salt Lake City, UT (July 12, 2019) A space ship made out of nearly 1,924 cans of food recently took residence at the SLC Library thanks to SelectHealth and Associated Food Stores. The companies participated in Salt Lake County Health Department's 4th annual Foodstruction program, which encourages companies to build creative displays out of healthy food items to raise awareness of food insecurity. Following the event, SelectHealth and Associated Food Stores donated the used items, totaling more than $1,617 worth of food to Utah Food Bank.
"One in five children have no idea where their next meal is coming from," said Emily Butlin, Associated Food Stores senior marketing specialist. "Food insecurity in Utah is real—and we believe we can all make a difference to help those who are in need."
SelectHealth organized a team to participate in the event and coordinated with Associated Food Stores to get the 1,924 cans needed to complete the design. The project required two different builds—a test run and the final product. The test run was donated to For the Kids, a nonprofit that feeds hungry children over the weekend with community donations and volunteers.
"SelectHealth is proud to have won the prize for donating the most amount of food to help our community in previous years. With the help of Associated Foods, we hope to win it again this year. The staff that participates in this event have a lot of fun designing the project, and seeing it come to light. The fact that it does such great for the community is a bonus."
"This is our 4th year participating in this wonderful event. SelectHealth loves that this event really shines a light on the food insecurities members of our communities' face. We chose to do a spaceship this year in honor of the 50th anniversary of the moon landing."
Foodstruction is part of Salt Lake County Health Department's mission to fight food insecurity with Utah Food Bank. Each year several companies visit libraries across the county to build creative displays meant to educate the community about food insecurity. Community members are then invited to vote for their favorites.
###
About Associated Food Stores
Associated Food Stores is an independent retailer-owned warehouse based in Salt Lake City, Utah, which provides complete warehouse facilities and services to over 400 grocers throughout the Intermountain West. To learn more about Associated Food Stores or to find a retailer near you, visit www.afstores.com.
About SelectHealth
SelectHealth is a not-for-profit health plan serving more than 850,000 members. Through a shared mission with Intermountain Healthcare®, we are committed to helping people live the healthiest lives possible®. In addition to medical plans, SelectHealth offers dental, vision, pharmacy benefit management, and life and disability coverage to its members. SelectHealth plans are available for Medicare and Medicaid enrollees, and we're also a carrier for the state's Children's Health Insurance Program. For details, visit selecthealth.org.
Media Contacts
Sarah Pettit
Associated Food Stores
801-978-8948
Jamee Wright
SelectHealth
801-442-7962
Jamee.wright@selecthealth.org