The Associated Food Stores' advertising and rewards teams are excited to share an update about their ongoing digital coupon efforts. The improvements are a true reflection of a "One Associated" effort as there are dozens of important contributions being made from all facets of the organization. 
The digital coupon clips increases and redemptions are a direct result of many teams working hand in hand to grow including: 
Category managers as they meet with vendors and discuss digital coupons as a tool available to them

 

Advertising team as they work each week to integrate our AFS-specific, locally funded digital coupons into our weekly digital ads

 

The rewards and marketing teams that work together to ensure shoppers are learning about digital coupons via a wide range of digital marketing tools, including paid social, paid digital, websites, apps, email and text marketing

 

Our rewards team, retail technology team and promotions committee members who are working together to ensure the online and in-lane digital coupon processes working correctly

 

Our rewards team and digital-coupon-supporting stores who work each week to ensure shoppers have a great in-store experience, from hanging digital coupon tags to helping shoppers who might be struggling with loading their digital coupons
"This is a total team effort and we sincerely appreciate all their efforts as we strive to make AFS' digital coupon program as successful as it can be," said Jason Sokol, vice president of marketing.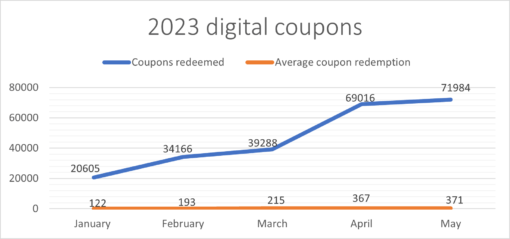 Here is a look at great news: 
The graph shows retailers are seeing significant gains month-over-month with digital coupon redemptions. Year to date, digital coupon clips are up 372 percent and digital coupon redemptions are up 41 percent.  
"These are celebration-worthy increases and we want to thank all of the teams that have made them possible," said Jason. "While we have a ways to go to get to our high goals, we are making great incremental gains." 
One note that is worth considering – the retailers that are doing the best with their digital coupon growth are using a combination of owned and paid digital media to drive awareness about their digital coupon (and other) programs. Owned media includes the retailers' websites, app, ecommerce, organic social media, email and text. Paid media includes items like paid social media (ex. Meta's advertisng network), paid display (ex. Google Ads), paid online video, digital radio, connected television. 
"The year 2023 is turning out to be a great year for the AFS digital coupon program. And we are excited to see just how much growth we will see," said Jason. "While the teams have been dialing in many of our efforts and processes to support this program, we are also on the cusp of rolling out our digital coupon personalization program. This development will allow our stores' shoppers to see digital coupons that match their shopping habits, while also allowing AFS, our retailers and vendor partners to better target shoppers with the right digital coupon content."