The National Grocers Association (NGA) will host its annual National Best Bagger Congressional Competition in Washington, DC on Wednesday, June 7 at 3:15 p.m. MST. The event will take place during the Hill reception in the Longworth House Office Building.
This year, the competition will feature Karli West as the bagging champion. Karli, hailing from Macey's grocery store in Provo, Utah, is known for her exceptional bagging skills and was crowned the Best Bagging Champion in 2023 at the NGA Show in Las Vegas.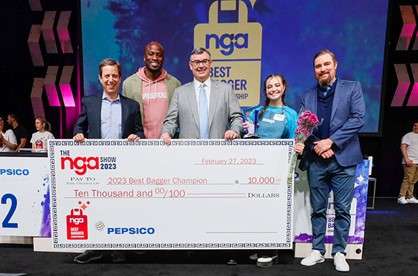 Karli will go head-to-head with Congressman John R. Curtis who represents Utah's Third Congressional District., in a thrilling bagging challenge. The competition will test not only speed but also accuracy and the quality of bagging, including factors such as weight distribution and item consideration.
The National Grocers Association will live-stream the event on its Facebook page, allowing viewers from around the country to witness the bagging competition firsthand.
The Best Bagger Contest is held each year at the NGA Show in Las Vegas. Local bagging champions from various regions compete in the national competition. The contest evaluates participants not only based on their speed but also their accuracy and bagging techniques.
Karli battled against top baggers from around the nation in the intense, but fun-filled event. As a reward for her impressive finish, Karli received a $10,000 cash prize and a trophy. Karli is the fifth bagger from Macey's to win the national competition since 2005.
The National Grocers Association serves as the national trade association representing the independent sector of the food distribution industry, encompassing retail and wholesale grocers.