Lower Foods Receives AFS "Vendor of the Year" Award
On October 13, Lower Foods was honored with the "Vendor of the Year" award to say thank you for the amazing partnership built between Lower Foods and Associated Food Stores (AFS).  
"We were all surprised and honored by the award. When I visit an AFS store and see how many suppliers, vendors, and products there are, I realize what an honor it is to our family and this company" said Alan Lower, president and CEO of Double L Ranch Meats.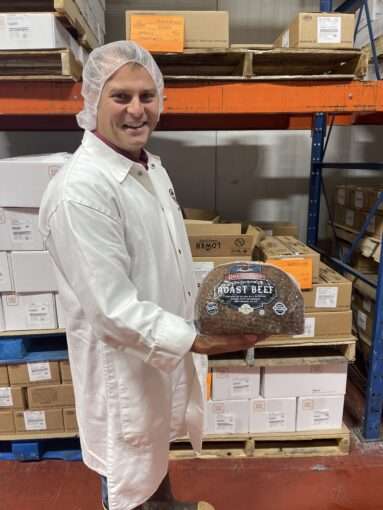 Lower Foods displayed enormous grit and dedication, specifically in the heart of the COVID-19 pandemic, to make sure AFS retailers had the product they needed.  
Alan Lower said it best, "Supplying meat products isn't just a job — it's our life and it's who we are."  
Lower leveraged an inventory of raw materials on hand, strong supplier relationships and a dedicated team of passionate employees who worked over holidays to ensure they could fulfill their commitments. Without their support, AFS' ability to provide guests with easy meal solutions would have been severely impacted.  
Lower Foods has been in the Lower family for four generations and in business since 1927, almost 100 years. Lower Foods offers open-oven roasts and naturally hardwood smokes premium quality beef, pork and poultry under the Double L Ranch and Deli Craft labels. The Deli Craft label will be exclusive to Associated Food Stores and will include cheese later this year. This will be an amazing opportunity for AFS to own the market on premium quality lunch meats offered in its delicatessens.   
"This partnership is extremely valuable, two local companies sharing in a common goal to provide great products to our communities.," said Ryan Barnes, director of delicatessen at AFS. "We're so excited to continue building a following around the Deli Craft line of deli meats and cheeses that can only be found at AFS retailers We look forward to continuing to grow this partnership between two local companies to show that when we work together, amazing things can happen."