The Associated Food Stores' system is dedicated to ensuring every team member feels completely safe and comfortable in the workplace. Effective immediately all who desire can use their preferred pronouns on their e-mail signature, business card and nametag.  
"We want everyone to bring their true selves to work," said AFS CEO Bob Obray. "For those who choose to use their pronouns, they are very welcome to do so, and I am confident everyone in our organization will be treated with respect."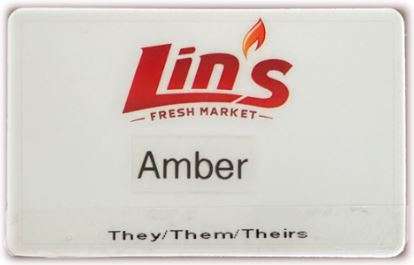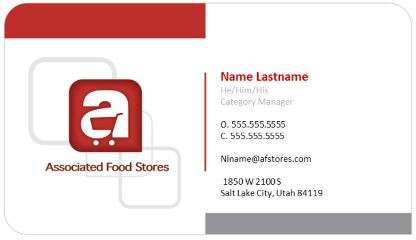 For those who choose to use their pronouns, team members are encouraged to choose from he/him/his, she/her/hers and they/them/theirs. If team members have additional pronouns they would prefer, they should contact their supervisor or Human Resources.  
For those who would like to add their pronouns to their nametag, team members should contact their TSS or supervisor.  
To add pronouns to business cards, the option is added to the order form when cards are ordered. Team members are encouraged to order replacement cards if they choose to include pronouns.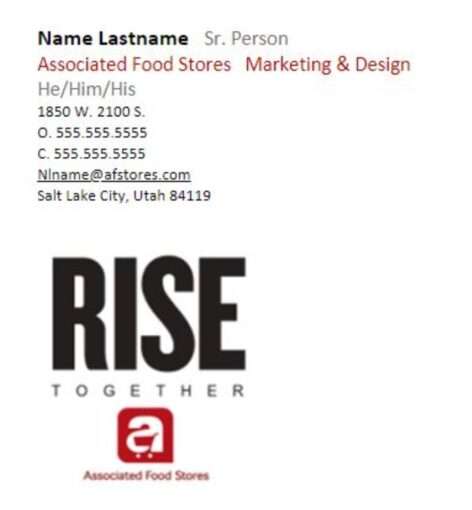 To add pronouns to an e-mail signature, use the following instructions: 
Highlight the entire signature (below) and select copy. (Or use the Ctrl + A shortcut)

 

In a new e-mail message, on the 

Insert 

tab, click 

Signature

, and then click 

Signatures

.  

 

On the

 E-mail Signature

 tab, select

 New

. 

 

Paste the copied signature into the field provided.

 

Under 

Choose default signature

, select whether you want the signature to appear in all new messages, replies and forwards, etc.

After making your selections, click 

OK

. 

 

Last but not least, if you have any questions visit here.
Team members are asked to not use other words, photos, art or gifs in their signature line, business cards or nametags. If there are any questions concerning using pronouns at Associated, please reach out to Human Resources or your supervisor.