Local Retailer and AFS Respond During Yellowstone Floods 
More than 10,000 visitors were moved out of Yellowstone National Park after severe floods washed out roads, destroyed bridges and sent a house plummeting into a river. Up to three inches of rain and snow melt from warm temperatures combined to create damaging conditions in the 150-year-old park that spans three states.
The 2.2-million-acre park was quickly closed and cleared of all visitors, but the floods stranded many in the Montana town of Gardiner. Gardiner is home to Gardiner Market, a member of Associated Food Stores owned by Rebecca and Scott Demaree.  
The market, one of the closest stores to the park, is a locally owned hybrid store offering traditional grocery store products, plus gluten-free, organic, and local selections. The store carries fresh meat and produce, baked goods, ready-made sandwiches and salads, beer, wine, and liquor, as well as hiking and camping supplies including bear spray, tents, air beds, and lanterns. The main highway in and out of Gardiner was washed out and shelves were depleted by tourists, and the people living in the small community, as they were unaware of when supplies would be available again. 
Much of the store's product is delivered by Associated Food Stores' drivers Rick Wise, Frank Flores and Jason Critsner. Frank saw the catastrophe firsthand as he made the initial deliveries/attempted deliveries. (The included picture on the left above is taken at the point Frank was forced to abandon his first delivery attempt.) Jason re-delivered as soon as the team had a way in.   
"Many of our Associated Food Stores' team members should wear superhero capes," said April Rice, vice president of retail services. "Duwayne Warren heard the news, swooped in and called Rebecca and Scott asking what their grocery needs are and how we can help. The warehouse pulled their supply order and got it on a truck for immediate delivery. We have amazing drivers here at Associated Food Stores. These are the superheroes many of us do not see. Our superhero truck driver, Jason, drove the Gardiner load to Idaho Falls and patiently waited for the road to re-open. All the while Duwayne and the Retail Counselor, Nate Copeland, and our AFS Specialists were ready to help with any operational or warehouse needs. This is an example of 'One Associated' everyone helping our stores. It's truly a blessing to work with such a caring company."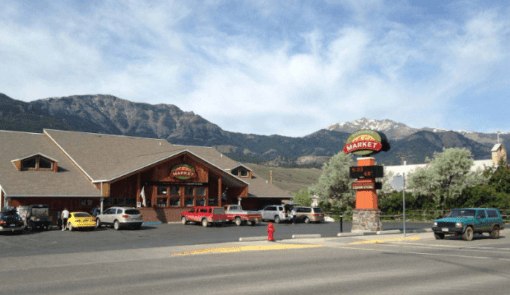 The team at Gardiner Market shared their gratitude on Facebook, "In case you don't know, we are an independent locally-owned business. We get a large portion of our groceries from Associated Food Stores, a member-owned co-op in Utah. We want to give a shout-out to all the amazing folks who help us keep the shelves full. From the logistics of holding our load in Idaho Falls after it couldn't get through Monday, keeping the truck on stand-by, getting a driver headed to town the second we got word of the road opening, pulling in last-minute supplies, and just checking in to send their love and support, these folks may not live in Gardiner but we count them as part of our local community. Thank you AFS! We are grateful to you all." 
Team members can see the post, and add comments, here.