Lin's Hurricane Makes Muddy Impression at Community Event 
Recently, a team from Lin's in Hurricane, went the extra mile (or miles) to show their community commitment by participating and sponsoring, the Hurricane Mud Run.  
The Hurricane Mud Run is the longest-running Mud Run in Southern Utah and consists of a mud-filled 5K with more than 25 obstacles for participants to climb over, around and through.  Steve Holm, district manager, and Anthony Simmons, operations manager, coordinated Lin's participation.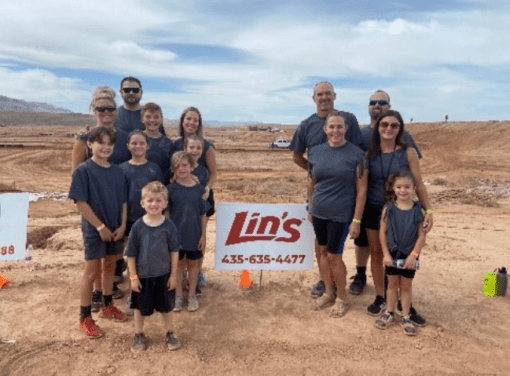 "It was truly a fun and rewarding event," said Steve. "The race organizers were extremely good to the Lin's team and to our brand. As we partner with these types of events, we solidify ourselves as 'the community grocer' in Southern Utah. It was incredible to see the team get involved." 
Those who participated from the Lin's team included: Anthony Simmons, RaeLyn Simmons, Mike Shin, Barb Shin, Eric Cisneros, Karen Cisneros, Lindsey Johnson, Carter Simmons, Paisley Simmons, Kade Simmons, Kael Cram, Harper Johnson, Porter Johnson, Ellie Cisneros. 
The AFS marketing team helped Lin's celebrate the success on social media. Photos of the Lin's team on Lin's social media pages were seen by more than 3,000 people. 
As part of the sponsorship, Boyd Irving and the exclusive brands team donated a pallet of water to the participants, which went a long way in keeping runners happy and healthy in the Southern Utah heat. 
"I am so grateful we could represent this amazing Lin's team at the Hurricane mud run. It was such a great event to be part of and celebrate our community with family and friends," said Anthony.