Lee's Wins Best of Cache Valley
Winning an award once is challenging. Winning an award eight years running is monumental. Lee's Marketplace was voted Best Grocery Store for Best of Cache Valley 2021. The award was presented at the Best Event Venue, The Vineyards at Mt Naomi Farms in Cache Valley. 
"Winners were selected by the community at large and are important threads in the fabric that make Cache Valley the best place to live and raise a family," said a representative from Cache Valley Family Magazine.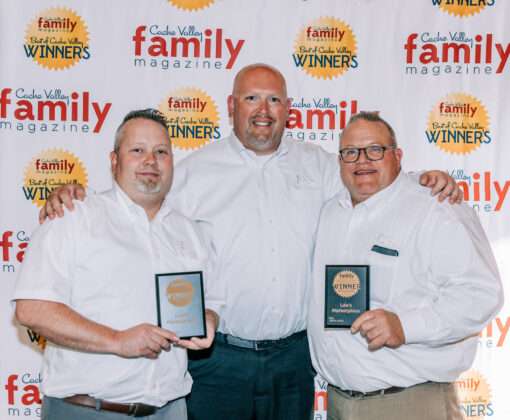 Lee's is a phenomenal member of Associated Food Stores and is known for having some of the highest standards in the organization. The meat, produce, bakery, deli, and floral departments are exceptional and offer quality that is unmatched in the big box stores. Lee loved to greet his customers and to know his team members. The stores have become a gathering place for the community. 
Lee and Shari Badger started in the grocery business in 1981 when they bought a small grocery store in Smithfield called Jack's Foodtown. Over the next few years, it was remodeled several times and then in 1991, the store was nearly doubled in size. But that was not enough for the growth that was coming to the north end of Cache Valley. In 1994, a new store was built just across the street. The new store now included a pharmacy, a deli, a scratch bakery and expanded departments. Lee and Shari had operated under the name of Jack's Foodtown for 13 years and it was now changed to Lee's MarketPlace. 
The business continued to grow and in 1999 a second Lee's MarketPlace opened in Logan. It was a beautiful store close to Utah State University and the residential community. The new store had a sit-down deli, a designer floral department, a state-of-the-art bakery, a full service butcher block and seafood counter, and pharmacy. In 2005, Lee's in Smithfield was remodeled and expanded to 47,000 square feet with a new drive-up pharmacy. In 2007, an opportunity arose to buy an existing store in North Ogden, called Acres Market. The store fit well with the other two Lee's locations. It was well known in the area and especially the pharmacy. The produce, deli, meat, and bakery departments were refreshed and updated to reflect the Lee's MarketPlace expectations. The growth continued from there with the addition of an Ace Hardware in March of 2016, situated next to the Smithfield Location. 
Later in October of 2016, Lee's welcomed the Heber location to the company. Formerly Day's Market, Lee's has welcomed ideas, innovations, and experience from the family-friendly grocery store. 
In January of 2017, Lee's opened their newly built masterpiece store in North Salt Lake. 
Now in five locations, Lee's Marketplace still offers the quality, freshness, and made-from-scratch promise that it has been and is still known for. Its Ace Hardware location is included in this growing family.