How Nerds (and other trends) Catapult Center-Store Sales
It's nearly impossible to identify where trends start. Sometimes they begin on social media or in a high school cafeteria or even a local grocery store. What Associated Food Stores and Associated Retail Operations' center store team members do know is once a trend starts, it requires a rapid response from many people to take full advantage.
One recent example is Nerds Gummy Clusters. Launched in 2020, one of the latest candy innovations from Nerds is a multi-textural treat. In a single bite, it is crunchy, gummy and, according to the many guests who buy them, incredibly yummy. Following a survey of 40,000 consumers, a national group recognizing product innovation named Nerds Gummy Clusters as the most innovative product in the sugar confections category in 2022.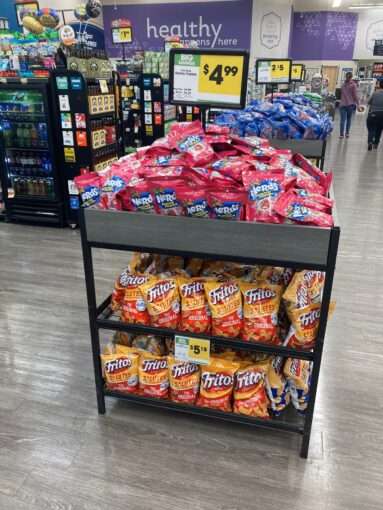 Jared Young, lead center store operations specialist, didn't need to see the national survey to know Nerds were taking over the world. (Nor did Day's Market owner, Brock Day, who cited the item as one of his favorite snack items on AFS' "On Break With" podcast a few months ago.)
"Our stores are on top of things," said Jared. "We spot trends early by carefully watching sales. We keep a list of the top 200 movers and when an item starts moving up the list, we spring into action."
Jared says stores have sold approximately 4,400 cases at about a 30 percent margin in 2022 alone and that many stores, including Macey's in Spanish Fork, keep 40 to 50 cases of the candy in backrooms at all times. Nerds Gummy Clusters are one of many trending items that drive sales and relevance.
"Taki® snacks and chips, Floss® cotton candy, Dippin Dots®, mochi balls, Two-Left Feet® socks, Cosset® bath bombs and many other items have led to impressive sales results as teams have reacted to the opportunities.
"We are always watching for items that are different or new," said Jared. "Being on trend is the lifeblood of our business. As we monitor sales closely, order and merchandise correctly and follow our center store merchandising plan we position ourselves for success."
Jared and other team members use the center store merchandising plan (CSMP) to communicate best practices and recommendations every week. If an item is selling particularly well, the CSMP calls it out. The team also uses "Affinity reports" to identify and merchandise items on Merchandising for Profit (MFP) racks in aisle or recommends the product be featured on checkstand fronts.
"Communication on trending items is very important, said Jared. "The distribution center needs to know and react, the AFS team facilitates promotions and marketing, and, of course, stores execute the plans in remarkable ways. It's really a great example of 'One AFS.' It shows what we can do if we work together."