Brown Sugar-Pecan Sweet Potato Casserole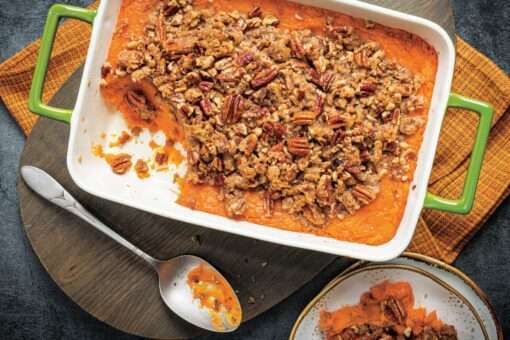 The perfect dish to accent your Thanksgiving table, this sweet potato casserole has all the classic flavors you love with the addition of warm Fall spices and pecan crumble.
Prep: 25 minutes   Bake: 25 minutes   Serves: 8
INGREDIENTS
Food Club® Non-Stick Vegetable Oil Cooking Spray
3 large sweet potatoes
½ cup packed Food Club® Light Brown Sugar
½ cup Food Club® Sweet Cream Unsalted Butter (1 stick), 6 tablespoons cubed and chilled,
2 tablespoons softened
1 teaspoon Food Club® Pure Vanilla Extract
¾ teaspoon Food Club® Iodized Salt
⅓ cup Food Club® All-Purpose Flour
½ teaspoon Food Club® Ground Cinnamon
½ cup Food Club® Pecan Pieces
DIRECTIONS
Preheat oven to 375°; spray 8½ x 11-inch baking dish with cooking spray. Pierce sweet potatoes all over with fork and place in large microwave-safe bowl; cover with plastic wrap, leaving 1 edge slightly open to vent, and heat in microwave oven 15 minutes or until very tender, turning potatoes every 5 minutes. Cool potatoes 5 minutes; scoop potato flesh into large bowl and discard skins. Stir in ¼ cup sugar, 2 tablespoons softened butter, vanilla extract and ½ teaspoon salt; spread in prepared dish. Makes about 4¼ cups.
In food processor, pulse flour, cinnamon, and remaining ¼ cup sugar and ¼ teaspoon salt; add remaining 6 tablespoons cubed butter and pulse until pea-sized crumbs form. Add pecans; pulse several times or until combined. Sprinkle pecan mixture over sweet potato mixture; bake 25 minutes or until top is golden brown. Makes about 5½ cups.
Approximate nutritional values per serving (2/3 cup): 321 Calories, 17g Fat (8g Saturated), 31mg Cholesterol, 263mg Sodium, 41g Carbohydrates, 5g Fiber, 21g Sugars, 4g Protein
Chef Tips
For a smoother purée, use a mixer in step 1 to beat sweet potato flesh and seasonings on medium-low speed until smooth.
Topping can be prepared, covered and refrigerated up to 2 days in advance.