An End to an Era: Print Ad Distribution
In Wednesday's team meeting at the corporate office, the group briefly talked about what is happening with the weekly print ad. The following provides additional details about the topic. If there are questions not answered below, please email jwsokol@afstores.com for more information.
While detailed, company leadership wants to ensure team members have the latest news and updates so all can understand where "One Associated" is heading on this important effort.
What is Happening with Print Ad Distribution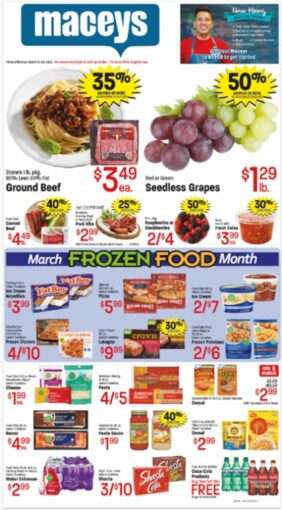 Before discussing ARO, it is important to understand what print ad distribution looks like across the retail membership. Prior to the pandemic, print ad distribution challenges were already rising. The pandemic and resultant economy have only exacerbated this situation. Many Associated Food Stores' retailers are in small towns where the only affordable way to get a print ad to the public was through the local paper. Unfortunately, local papers faced big challenges.
Across the country, and in many of the places where AFS members run their businesses, local papers are struggling because significantly fewer people subscribed to newpapers. People were going online to get news. This trend led to local papers:
Reducing the number of days per week they were distributing.
Closing their doors entirely.
Shifting to online news agencies.
People in the Salt Lake Valley have seen the same trend. This last year, both the Salt Lake Tribune and Deseret News moved entirely to online models.
With that as a background, ARO and several MRO stores are facing newly announced challenges with Vericast.
Vericast is the company some AFS members used to distribute ads. Vericast's main, and most affordable solution, was the shared mail piece. This is the packet many receive weekly containing local grocery store ads and a variety of ads from other small, local businesses. This solution was affordable because all participating businesses shared the cost with one another.
Vericast, much like newspapers, faced similar challenges:
Many small businesses are shifting to digital and social media marketing to better connect with their shoppers.
Fewer shoppers were looking at the shared mail packet – estimates are that between one and three percent of consumers looked at shared mail ads.
Several other factors exist that may be impacting the timing of Vericast's changes.
Vericast contacted ARO, AFS and about a dozen MRO retailers who were using the company for print distribution and informing them that:
In March, Vericast was changing some of the areas where the shared mail piece would be distributed. Some retailers were faced with cost increases up to five times what they were paying previously for ad distribution. ARO had about 25 percent of all its ad distribution impacted by this change.
In May, Vericast was then going to change the number of times it would send its shared mail piece. Instead of sending it weekly, the company would switch some areas to a monthly distribution and other areas to a semi-month (twice a month) distribution.
These two changes made distributing ads with Vericast a major challenge for AFS retailers, both financially and practically.
The Reality Is…
Associated Food Stores was not surprised.
The good news for AFS, ARO and member retailers is AFS was already preparing for this eventuality:
About 20 years ago, under the leadership of Rich Parkinson and support from Roger White, AFS launched its first websites program, sites that included some of the the company's first online ads.
About 18 years ago, AFS' marketing team began experimenting with online video and YouTube.
Approximately 10 years ago, AFS formed a partnership with eComSystems and deployed AdStudio, a solution that came with dynamic online ad capabilities.
About eight years ago, AFS launched its first rewards program across many of its retailers and began using social media and email marketing.
Approximately six years ago, AFS launched its first ecommerce stores under the guidance and vision of Neal Berube and David Rice.
Most recently (5-6 years ago), AFS started supporting ARO and deployed our first digital and social media marketing solutions.
In 2022, AFS was already starting to ramp down our print ad distribution, moving from weekly to 36 planned weeks.
Today, AFS has roughly 110 stores on rewards and digital coupons, 210 ecommerce stores, 112 store websites, and in the last year AFS signed up about 50 stores onto its social media and digital media services.
This year, AFS planned to only print and distribute ads during 19 weeks.
Associated Food Stores has planned for this change and intended to move away from print ads by 2024. The only thing the Vericast situation changed was the timeline. Associated Food Stores has been moving, and will continue to move into the digital space because it positions the company to help its retailers be successful now and in the future, especially as print distribution collapses.

Where Do We Go from Here?

We are making immediate changes and recommendations to better support member retailers. First, leading up to and during the Annual Meeting, AFS will emphasize the importance of driving shoppers to weekly digital ads. This is accomplished most often through a combination of email marketing, paid social media, organic social media and paid digital media.
Second, AFS will work with member retailers who are on its digital platforms (specifically email, digital coupons or rewards) to get as many of their shoppers signed up for these programs as possible. Why? Because in all three situations, the retailer ends up with a way to reach their shoppers using email and websites, effectively giving retailers the power to connect with shoppers without print distribution. For comparison, a traditional print ad cost retailers ~$0.05 printed and delivered. An email typically costs less than $0.001 per email sent.
AFS is incredibly excited about the future. The weekly ad isn't going away. It may change to one degree or another; however, it is the most effective way (along with the weekly sales message) to drive execution and merchandising at retail.
Weekly ads will continue, as will stores getting in-store copies of the ad. And, many new opportunities will open up for teams at AFS as we grow its retailers' digital footprint, run more and more digital marketing for them, produce weekly display ads, social media ads, create emails…and more. This is a tremendous opportunity.
With digital, AFS ends up with many more ways for member stores to connect with their shoppers, far more than with paper ads. Additionally, digital marketing is measurable, again opening more opportunities for AFS team members and retailers.
Associated Food Stores will continue facing challenges. However, as this situation shows, the company is well prepared and positioned to be successful today and in years to come.