Welcome to the One Associated
online
Team Store!
Welcome to the One Associated online Team Store, we're excited you're here. We've partnered with LIZard Apparel to offer you logoed shirts, jackets, merchandise and more so you can showcase your company pride and just own some fun swag. Imagine wearing your favorite store or office apparel and having a matching version for your kids.
The following information and FAQ will help you log in to the team store and start shopping. Please be sure to read all the FAQ prior to making your first purchase.
You will be asked to change your password the first time you log in. See instructions below.
Login ID
Retail team: Use ARO and your team ID number (Ex: ARO56789)
Corporate team/Farr West team: Use AFS and your team ID number (Ex: AFS12345)
Password
our initial password will be your hire date or service date, which can be found on Insite under My Team Member Information, see screenshot below. (Ex: 05222000) – enter without the / After you login the first time you will be prompted to reset your password.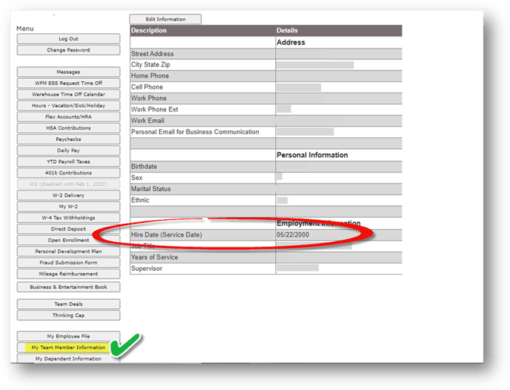 Team Members enjoy

10% off

all purchases for the month of February and be entered to win FREE stuff, just by logging in and looking around. Use promo code

LAUNCH10

at checkout to save 10%.

The store URL is oneafsteamstore.com or you can log in and start shopping here

.

Chrome is the preferred browser for this site.
The

purchase

payment

default

is

payroll deduct

.

If you d

o not

want your purchase to come out of your paycheck, please zero out the amount and pay with a card prior to submitting your order.

Payroll deduct information can be found in the FAQ below.
Week 1 Winners
These 10 lucky team members won this week JUST FOR LOGGING IN! No purchase is necessary to be entered into the weekly drawings. Simply log in, look around and be entered to win. (but don't forget 10% off any purchase in February) Three more weeks of drawings and you're eligible for each week that you log in!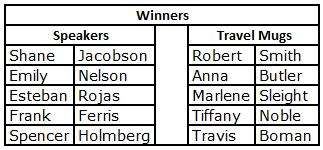 Week 2 Winners
Congratulations to another 10 lucky team members who won this week , just for logging in!​
Did you notice there's a sizing chart to make sure you get the right size every time? What about the FAQs? It's a great place to get all your questions answered. If you have a question you don't see an answer to, click the link at the bottom to ask questions or provide feedback.​
Help us make the One Associated online team store even better just by logging in and looking around. Come back every week for another chance to win!​
This week, we gave away hats and picnic blankets to those who logged into the new Team Store. ​
Congratulations to:​
Judy Wright​
Lorie Rowley ​
Leta Barrientos ​
Tabatha Marez ​
Brian Hiatt ​
Benjamin Henley ​
Anthony O'Brien ​
Teresa Peterson​
Maja Lovric-Poprzenovic ​
Marieanne Simons ​
Week 3 Winners
This week, we gave away bags and tracker tags to those who logged into the new One Associated Team Store. We're down to our final week of giveaways and the 10% discount, don't miss out on your chance to save and win! ​
Congratulations to:​

Week 4 Winners
For our final week, we gave away hoodies, jackets and socks to those who logged into the One Associated Team Store. We also awarded 10 lucky winners a $100 credit to the Team Store! You can still shop for logoed apparel anytime, just log in here. Thanks for helping us celebrate the grand opening of our new Team Store. ​
Congratulations to: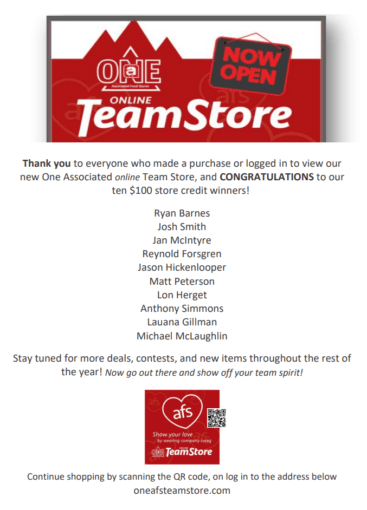 Everything being offered as a giveaway can also be purchased online.
Frequently Asked Questions
1. How long does it take to get my order?
Orders are produced "on-demand" and usually ship within 7-10 business days. This is due to the time it takes to embroider or screen-print your item(s). You will receive a confirmation email when your order is placed and an additional email when your item(s) ship.
2. If there are discounts being offered, how are they applied?
Discounts are redeemed using a PROMO CODE during checkout.
3. What is payroll deduct and how does it work?
Payroll deduct is a payment option that is deducted directly out of your next check, making it easy to purchase your items. The system is currently set to default to this payment option.
4. How do I change the payroll deduct option?
To remove the payroll deduct default, simply click on the amount and change it to $0.00. You will then be able to pay with a credit card.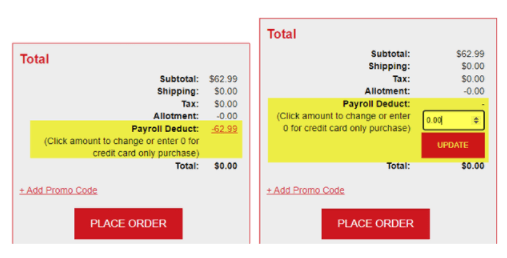 5. Is there a payroll deduct limit?
Yes, there is a limit of $150 per pay period. The amount available will recalculate after your purchase and reset at the beginning of the next pay cycle.
6. Who is the vendor we are using and how can I contact them?
We have partnered with a company called LIZard Apparel. They provide a secure platform for our online store, embroidery or screen-print our logos on your selections, and ship your items directly to your house. They can be reached at 937-929-0706 or support@lizardap.com
7. My card hasn't been charged, did my order go through?
Your purchase will be charged when your order ships to you. Standard production time is 7 – 10 business days.
8. Can I order items without a logo?
Yes, that option is available, however, there is no price reduction on the item. To order without a logo, select the "No Logo" option.
9. Trouble Logging in?
Step 1: Click "Reset Password", enter your Login ID and click "Submit." You will receive an email to reset your password. Emails are sent to the email address you have on file with AFS or ARO and will come from support@lizardap.com.
Step 2: Contact Lizard support at 937-929-0706 or email at support@lizardap.com
10. How do I know what is approved to wear at retail?
We have identified a "Retail Uniform Approved" category inside the Team Store that outlines all the approved items that can be worn at retail. Anything purchased outside of this category can still be purchased for your personal use but may not be approved based on where you work. Please always refer to the uniform policy for your location. You can shop that category here
If you have questions, special requests, or feedback, please complete this form Question & Feedback Link