Associated Retail Operations (ARO) recently announced that all Macey's, Lin's, Dick's Markets, Fresh Markets and Dan's will have self-checkout lanes. To learn more, Team News spoke with Ashlee Johnstun, director of customer relations, ARO and Greg Welling, systems and integrations director, ARO.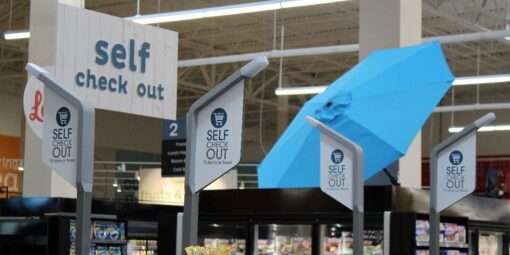 Why did ARO elect to invest here?  
In 2021 AFS/ARO had a renewed focus on improving shopper-facing technology specifically on the front end. This work has focused on speeding up the loyalty program, improved pin pad technology, speeding up checkout lanes and improving and expanding self-checkout. Our guests want equally great cashiers at a traditional lane and the option to use self-checkout lanes.  
We know providing shoppers with a fast, easy-to-use experience is a critical component to the guest's shopping experience. For this reason, installing self-checkout lanes at all ARO locations and expanding self-checkout at existing locations has become a higher priority. The market has been shifting over time and for many of our guests self-checkout is now their preferred checkout experience. We are still all about service! Self-checkout units allow us to provide faster checkout to most of our guests while still providing friendly service with our self-checkout attendants.  
Who helped with the project?  
Installing and expanding self-checkout lanes is truly a "ONE-AFS" effort. It involves coordination from the entire AFS/ARO team. We are thankful to everyone who plays a role. David Rice and Darin Pierce approve all the capital expenses allowing us to improve our stores and keep them up-to-date. The AFS MDI team coordinates and performs all the construction, The center store team works with vendors to supply fixtures and completes the merchandising, the CRM team helps communicate and train procedures, the retail technology team procures, maintains and installs the equipment, and the store teams (especially the front-end team members) work tirelessly to ensure our guests receive a great checkout experience.  
When did it start and when will it launch?  
We first introduced self-checkouts in 2009 and in 2015 to 2021 we ramped up our efforts on expanding them to more ARO retail locations. In 2022 we are accelerating the installation of self-checkout units. ARO has purchased 78 units that will be added to the 194 units already in place at ARO.  
Fresh Market Park City is the first store to have more than eight lanes. They now have 12 self-checkout lanes, the most in the AFS system. Lin's Overton was the latest ARO store to receive self-checkout lanes. They received six lanes this week.  
What percentage of orders do we expect to use them?  
Right now, 57 percent of all transactions at ARO locations go through our existing self-checkout lanes. Our highest use self-checkout store is Macey's Parleys Way with 76 percent of all transactions.  
The self-checkout lane that had the most sales processed last year was lane 75 at Macey's Murray at $2,298,564.  
What does this mean for shoppers?  
The expansion of self-checkout to all ARO locations provides our stores with more opportunities to please our guests. Our guests want great cashiers at a traditional lane. Our guests also want the option to use self-checkout lanes for fast contactless transactions overseen by a friendly self-checkout attendant. Our teams can now be more effective in providing a great guest experience in all forms of checkout on the front end.