Macey's soft-opened its twentieth store at 1557 Eagle Mountain Blvd. in Eagle Mountain, Utah on Wednesday, May 18 and customer response has been incredibly positive. As a licensed store owned by the Ridley's organization, the store follows all business operations in accordance with Macey's policies and procedures, with the Ridley's organization maintaining ownership.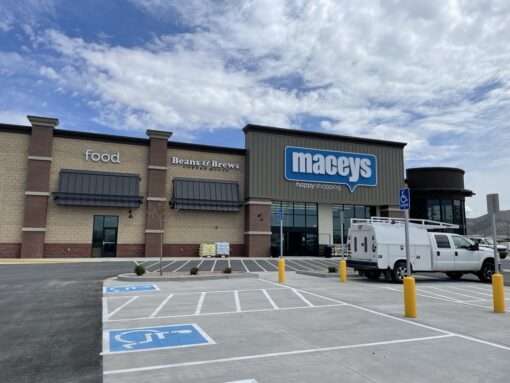 This partnership was on full display during the past few days as Mark Ridley teamed up with Associated Retail Operations' (ARO) team members to ensure customers experienced "happy shopping" at its finest during the opening days. As an example, Mark, Darin Peirce, Ashlee Johnstun and others, served Macey's famous Kong Kones to guests well past 9 p.m. on Thursday evening as demand for the popular treat continued throughout the first few days. 
ARO teams have worked long hours to ensure the store was up and ready for opening day. Individuals in every department worked closely with new team members to add finishing touches, finalize merchandising and give guests a first impression they won't forget. 
Here are a few early reviews from Eagle Mountain shoppers: 
Amazing! I am so happy thank you Macey's and staff!
Went opening day, and while it was super packed and crowded it was still super fast to checkout! Fantastic staff, store looks great! 
Friendly staff, store looks very well put together. New fan of Maceys! 
So very pleased with the location of this local grocer. It's been a long time coming for City Center & Eagle Mountain in general. Great selections, great staff, very bright and inviting interior. Prices are good too. 
A grand-opening and ribbon-cutting celebration for the new Macey's will occur on Wednesday, June 8 at 10 a.m. The event can also be viewed via Facebook Live at the same date and time. Watch Team News for more updates and more photos following the event.