On April 5, Associated Food Stores (AFS) hosted the annual meeting for member retailers at the Little America Hotel in Salt Lake City, Utah. The meeting was the first in-person annual meeting in two years and retailers and team members were excited to be back together.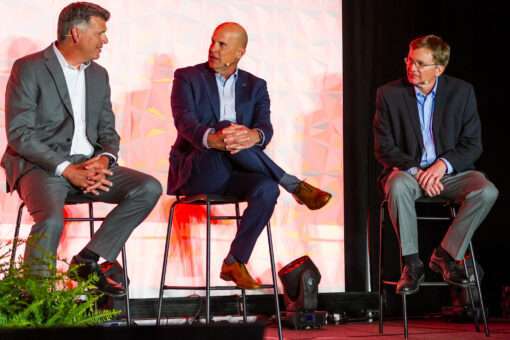 The meeting began with the national anthem performed by local country artist Kaleb Austin. Then, Bob Obray, president and CEO, welcomed the hundreds in attendance and introduced special guests. A video highlighting the theme of "Rise Together" featured retailers and team members who have overcome great odds throughout the past year.
Chip Atkinson, chairman of AFS' board of directors, introduced fellow members of the board and expressed gratitude for their efforts before Brent Foulger announced this year's election results (see accompanying story).
Following the election results, Brent announced the winners of the Donald P. Lloyd Spirit of Independents award, Shari and the late Lee Badger (see accompanying story). A video commemorating the Badgers' many accomplishments brought a standing ovation for Shari as she accepted Associated Food Stores' highest honor.
Following the award presentation, Travis Boman, chief financial officer, shared the impressive financial results achieved in 2021. Among other details, Travis reported net sales were $2.37 billion in 2021, up 2.2 percent.
Bob then introduced Roger White, executive vice president of sales and wholesale operations and David Rice, executive vice president and president of Associated Retail Operations (ARO), to the stand. David outlined why the "stars are aligned" for AFS to continue its growth and, using inspiring examples from member and corporate stores, showed how a focus on team members, facility investments, innovation and new stores can help AFS achieve its ultimate goals.
Roger shared details about 2021 accomplishments including remodels, resets, GM sales, bakery and exclusive brand sales and other achievements before outlining exciting opportunities with a variety of initiatives. Upcoming and in-progress efforts include enhanced supply, improved data use, a robust pricing system, new and refreshed exclusive brands, digital advertising, warehouse modernization, centralized production and more.
To conclude the meeting, Bob addressed "the need for speed" as AFS continues its positive momentum. Bob outlined many ways AFS and its retailers can help customers fill their needs more efficiently including eCommerce and digital marketing, store planning, front-end experience, mobile checkout, ready-to-eat meals and more. Bob encouraged a strategic, focused approach.
"By focusing on these key drivers we can increase our speed as One Associated," said Bob. "We can't be pedal to the metal all the time, but we all want the rush and heart-pounding exhilaration of going fast, of shattering more records. We have the engine and the horsepower to satisfy our retail customers' need for speed."
As Bob finished his remarks, he voiced his confidence in the power and ability of "One Associated."
"In the last year, I've personally visited close to 100 stores with members of the AFS leadership team," said Bob. "We've engaged with you at Retailer Connection meetings. We've huddled with you. We work with you every day. We feel your excitement. We feel your renewed confidence and momentum. It fuels us! It inspires us! Our corporate teams, our distribution and transportation teams, the ARO and MRO teams, you, our retailer members…everyone across One Associated is fired up and ready to roll!"