On March 28, Associated Food Stores (AFS) hosted the annual meeting for member retailers at the Little America Hotel in Salt Lake City, Utah.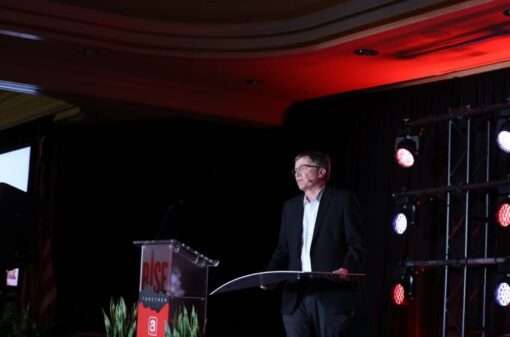 The meeting began with the national anthem performed by Ryan Innes. Ryan is from Salt Lake City and was featured on the hit television show The Voice. Then, David Rice, president and CEO, welcomed the hundreds in attendance and introduced special guests.  
Brent Foulger, vice chairman of AFS' board of directors, introduced fellow members of the board and expressed gratitude for their efforts before Board Member Jason Pollard announced this year's election results. 
Following the election results, Dave announced the winner of the Donald P. Lloyd Spirit of Independents award, Monte Peterson (see accompanying story). A video commemorating Monte's accomplishments brought a standing ovation for Monte as he accepted Associated Food Stores' highest honor. 
After the retailer award presentation, Board Member Jim Benedict introduced a new award. As the company's premier team-member recognition, the award is presented to a team member who exemplifies leadership, commitment and heart in driving the mission of Associated Food Stores to enrich lives, one grocer, one family, one meal at a time.  
Duwayne Warren was named the first recipient of the One Associated Award. Duwayne was given the award and was featured in this year's annual report. (See accompanying story.) 
Following the award presentations, Dave spoke to the group about the importance of investing in teams, both at retail and wholesale. Travis Boman, chief financial officer, shared the impressive financial results achieved in 2022. Among other details, Travis reported net sales were $2.66 billion in 2022, up 12.3 percent. Roger White, executive vice president and COO, shared ways AFS is investing in the system. Justin Atwater, executive vice president and general council, also addressed the audience with an informative presentation about investing in stores.  
To conclude the meeting, Dave addressed the importance of synergy as AFS continues to build on its positive momentum. Dave expressed the significance of working together to overcome challenges and how "One Associated" can take advantage of opportunities. He concluded his remarks by focusing on "the heart" of Associated Food Stores. 
"The true power of our virtuous cycle, the true power of One Associated is our heart," said Dave. "Our heart is our true differentiator." 
As Dave finished his remarks, he voiced his confidence in the power and ability of "One Associated" to be the premier wholesaler in the west. A video focused on the theme "Rise Together," featuring footage captured in a single day, highlighted the many accomplishments retailers and team members make in their daily efforts.