Red Button Vintage Creamery Boosts Candy Sales 
In the fourth quarter of 2021, the AFS Exclusive Brands team launched an exciting extension to the Red Button Vintage Creamery brand.
The brand started as an ice cream line and expanded to include gelato and fruit and cream pies. Then, this winter, Red Button Vintage Creamery candy debuted on AFS members' shelves.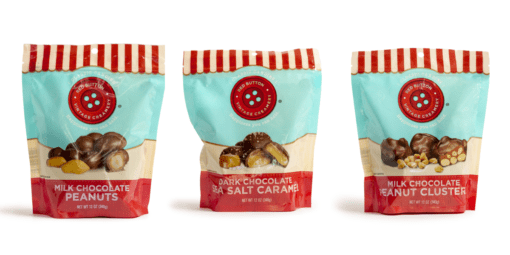 "Candy was a natural addition to the Red Button Vintage Creamery family," said Boyd Irving, vice president, Exclusive Brands. "We worked with our internal marketing and design team, as well as our candy partner to ensure the product and packaging would be ready for a pre-Christmas launch." 
The four initial products were a line of chocolate candies sold in attractive pouch packages including chocolate-covered peanuts, peanut clusters, sea salt caramel and chocolate-covered raisins. The candy was previously packaged as Food Club and immediately saw a jump in sales with the switch in brands. Many guests purchased the new candy for personal consumption but also for neighbor gifts throughout the holidays. 
Overall sales on these items from November 2021 to present are up 65 percent which reflects significant hard work from the AFS Exclusive Brands team, in-house broker, DeJarnett, the marketing and design team and many others. Boyd and the other members of the Exclusive Brands team are excited to extend the offering to include in-line peg candy later in 2022. The extension will include more than 30 candy and chocolate items. 
"Red Button Vintage Creamery is a perfect example of the 'One Associated' approach," said Boyd. "It's proof great things happen when retail, the corporate team and the distribution center team collaborate."