Operation Homefront to provide 100 Utah military families with holiday meals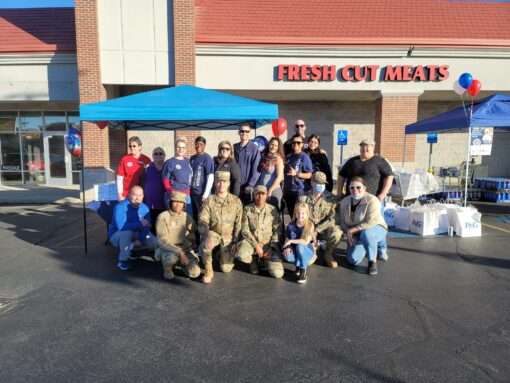 ROY, Utah — The national nonprofit Operation Homefront distributed meal kits complete with all the essentials for a traditional holiday meal to pre-registered military families at the Kent's Market in Roy last Saturday.
During this year's Holiday Meals for Military®, Operation Homefront will put meals on the tables of more than 13,000 military families nationwide.  The program offers junior- and mid-grade enlisted families, who are often far from loved ones, with all the grocery items necessary to prepare a traditional holiday meal, helping to ease a widely felt financial burden and make the holiday season brighter for those who sacrifice so much on behalf of all Americans.   
As the health and safety of military families, volunteers, and staff are highest priority, this program will be delivered in a drive-through format and will be conducted within local, federal, and CDC guidelines. 
About Operation Homefront
Founded in 2002, Operation Homefront is a national nonprofit organization whose mission is to build strong, stable, and secure military families so that they can thrive – not simply struggle to get by – in the communities they have worked so hard to protect. Recognized for superior performance by leading independent charity oversight groups, 90 percent of Operation Homefront expenditures go directly to programs that support tens of thousands of military families each year. Operation Homefront provides critical financial assistance, transitional and permanent housing and family support services to prevent short-term needs from turning into chronic, long-term struggles. Thanks to the generosity of our donors and the support from thousands of volunteers, Operation Homefront proudly serves America's military families. For more information, visit OperationHomefront.org. 
About Start Strong, Stay Strong 
Operation Homefront launched 'Start Strong, Stay Strong,' a national brand campaign in March 2021. The initiative brings much-needed attention to the dedicated service of our military families and the support that Americans can provide to build the stability, connections and comfort these families deserve to start strong in their communities and stay strong throughout their journeys. #StartStrongStayStrong. Find out more at operationhomefront.org/startstrongstaystrong.