Employee Gift Card Sale
Starting November 26, all AFS and store employees will be able to save on a selection of great gift cards! See the full details and list below for more information on saving and eligible gift cards. AFS team members need to show their name badge at the time of purchase.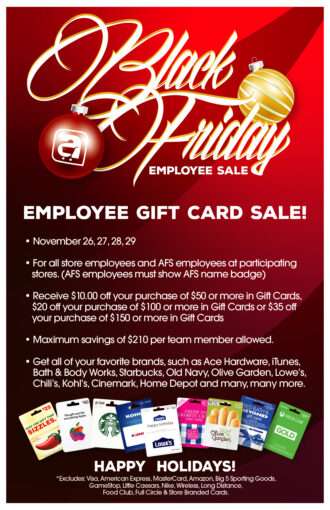 November 26, 27, 28, 29 – Maximum Savings of $210
Receive $10 off purchase of $50
Receive $20.00 off purchase of $100
Receive $35 off purchase of $150
Below is the list of cards allowed for purchase.
| | |
| --- | --- |
| Ace Hardware ($5-$250) | $5-$250 |
| Apple Lynx ($10-$500) | $10-$500 |
| Applebee's $25 | $25.00 |
| Applebee's $50 | $50.00 |
| Applebee's ($25-$500) | $25-$500 |
| At Home ($25-$500) |  $25-$500 |
| Barnes & Noble $25 | $25.00 |
| Barnes & Noble ($25-$500) | $25-$500 |
| Bass Pro Shops ($25-$500) | $25-$500 |
| Bath and Body Works ($25-$500) | $25-$500 |
| Bath and Body Works MP (3x$15) $45 | $45.00 |
| Bed Bath & Beyond Tri-Brand VGC ($15-$500) | $15-$500 |
| Best Buy $25 | $25.00 |
| Best Buy $50 | $50.00 |
| Best Buy VGC ($25-$500) | $25-$500 |
| Bloomin' Brands Flemings ($25-$500) | $25-$500 |
| Brinker International $25 | $25.00 |
|  Brinker International $50 | $50.00 |
| Buffalo Wild Wings ($15-$250) | $15-$250 |
| Burger King ($15-$100) | $15-$100 |
| Burlington Coat Factory $25-$500 | $25-$500 |
| Buy Buy Baby ($15-$500) | $15-$500 |
| Cabela's ($25-$500) | $25-$500 |
| Carnival Cruises ($100-$500) | $100-$500 |
| Chick-Fil-A $10 | $10.00 |
| Chili's $25 | $25.00 |
| Chili's $50 | $50.00 |
| Chipotle ($20-$200) | $20-$200 |
| Cinemark($10-$250) | $10-$250 |
| Claire's ($25-$200) | $25-$200 |
| Cold Stone Creamery ($15 – $100) | $15-$100 |
| Columbia Sportswear $25-$500 | $25-$500 |
| Cracker Barrel $25 | $25.00 |
| Cracker Barrel ($25-$500) | $25-$500 |
| Crate & Barrel ($25-$500) | $25-$500 |
| Dairy Queen ($15-$250) | $25-$250 |
| Darden Olive Garden ($25-$100) | $25-$100 |
| Darden Universal  $25 | $25.00 |
| Darden Universal ($25-$100) | $25-$100 |
| Darden Universal 2019 PROMO VGC ($25-$100) | $25-$100 |
| Delta Airlines $100 | $100.00 |
| Delta Airlines $50 | $50.00 |
| Denny's $25 | $25.00 |
| Dick's Sporting Goods ($25-$500) | $25-$500 |
| Dillard's $20-$500 | $20-$500 |
| Disney Mickey ($25-$500) | $25-$500 |
| Domino's ($15-$100) | $15-$100 |
| DoorDash ($15-$200) | $15-$200 |
| DSW ($25-$500) | $25-$500 |
| eBay ($25 – $200) | $25-$200 |
| Fairway Rewards ($25-$200) | $25-$500 |
| Fanatics ($25-$500) | $25-$500 |
| Fandango ($25-$100) | $25-$100 |
| Focus Brands ($15-$100) | $15-$100 |
| Foot Locker ($25-$250) | $25-$250 |
| Gap Athleta ($25-$500) | $25-$500 |
| Gap Options ($25-$500) | $25-$500 |
| Gearbox Fortnite V-Bucks $19.99 | $19.99 |
| Google ($10-$200) | $10-$200 |
| Google Play $10 | $10.00 |
| Google Play $25 | $25.00 |
| Google Play $50 | $50.00 |
| Groupon ($15-$200) | $15-$200 |
| H&M ($15-$300) | $15-$300 |
| Harley Davidson ($25-$500) | $25-$500 |
| Home Depot $100 | $100.00 |
| Home Depot $25 | $25.00 |
| Home Depot ($25-$500) | $25-$500 |
| Hotels.com ($25-$500) | $25-$500 |
| IHOP ($25-$200) | $25-$200 |
| Instacart $25-$250 | $25-$250 |
| Jersey Mikes ($10-$250) | $10-$200 |
| Kohl's ($25-$500) | $25-$500 |
| Larry Miller Group Mega Plex $25 | $25.00 |
| Larry Miller Group Mega Plex $50 | $50.00 |
| Lids ($25-$500) | $25-$500 |
| Longhorn ($25-$100) | $25-$100 |
| Lowe's $25 | $25.00 |
| Lowe's ($25-$500) | $25-$500 |
| Lululemon ($25-$500) | $25-$500 |
| Macaroni Grill $25 | $25.00 |
| Macy's RT Snap ($25 – $200) | $25-$500 |
| Netflix ($20-$200) | $20-$200 |
| Nintendo $20 | $20.00 |
| Nintendo $50 | $50.00 |
| Nordstrom ($25-$500) | $25-$500 |
| Nordstrom ONE ($25-$500) | $25-$500 |
| Nordstrom Rack ($25-$500) | $25-$500 |
| Old Navy $25 | $25.00 |
| Old Navy ($25-$500) | $25-$500 |
| Outback ($25-$500) | $25-$500 |
| Outback Steakhouse $25 | $25.00 |
| Outback Steakhouse Universal ($25-$500) | $25-$500 |
| Panera ($15-$200) | $15-$200 |
| Petco $25 | $25.00 |
| PetSmart ($25-$500) | $25-$500 |
| PF Chang's ($25-$500) | $25-$500 |
| Pottery Barn ($25-$500) | $25-$500 |
| QVC ($25-$500) | $25-$500 |
| Red Lobster ($25-$100) | $25-$100 |
| Red Robin ($25-$500) | $25-$500 |
| Regal Cinemas $25 | $25.00 |
| Regal Multipack Parent (3X$15) $45 | $45.00 |
| REI ($15-$500) | $15-$500 |
| Roblox ($10-$100) | $10-$100 |
| Sephora $25 | $25.00 |
| Sephora ($25-$500) | $25-$500 |
| Shell Oil $25 | $25.00 |
| Sony PlayStation $25 | $25.00 |
| Spa Week ($25-$500) |  $25-$500 |
| Sportsman's Warehouse (25-500) | $25-$500 |
| Spotify $10 | $10.00 |
| Spotify $30 | $30.00 |
| Staples ($5-$500) | $5-$500 |
| Starbucks $15 | $15.00 |
| Starbucks $25 | $ 25.00 |
| Starbucks ($15-$500) | $15-$500 |
| Starbucks Happy Birthday $25 | $25.00 |
| Starbucks Happy Birthday ($15-$500) | $15-$500 |
| Starbucks Multi-Pack $30 | $30.00 |
| Starbucks Thank You ($15-$500) | $15-$500 |
| Stitch Fix VGC ($20-$200) | $20-$200 |
| Subway ($15-$500) | $15-$500 |
| T.G.I.Friday's  ($25-$500) | $25-$500 |
| Taco Bell ($15-$100) | $15-$100 |
| Taco Time ($10-$100) | $10-$100 |
| Target Baby ($25-$500) | $25-$500 |
| Target Puppy ($25-$500) |  $25-$500 |
| Target Toys ($25-$500) | $25-$500 |
| Texas Roadhouse ($25-$100) | $25-$100 |
| The Cheesecake Factory ($25-$500) | $25-$500 |
| The Children's Place ($25-$500) | $25-$500 |
| Uber ($15-$200) | $15-$200 |
| Uber Eats  $15-$200 | $15-$200 |
| Ulta ($25-$500) | $25-$500 |
| UTA Retail  (Wrapped Card) | $5-$500 |
| Victoria's Secret ($25-$500) | $25-$500 |
| Victoria's Secret PINK ($25-$500) | $25-$500 |
| Village Inn $25 | $25.00 |
| VUDU $25-$100 | $25-$100 |
| Wendy's ($15-$100) | $15-$100 |
| West Elm ($25-$500) | $25-$500 |
| White House Black Market ($25-$500) | $25-$500 |
| Xbox 3m Live Gold $24.99 | $24.99 |
| Xbox LIVE Microsoft 2014 $15 | $15.00 |
| Xbox LIVE Microsoft 2014 $25 | $25.00 |
| Xbox LIVE Microsoft 2014 $50 | $50.00 |
| Xbox 3M Ultimate $44.99 | $44.99 |
| Zappos $25 | $25.00 |
| Zaxbys ($15-$250) | $15-$250 |
The following cards are NOT allowed as part of the promotion:
Visa – all
Visa Go Eat
Visa Go Enjoy
American Express
MasterCard
Amazon
Big 5 Sports
GameStop
Go Shop
Little Caesars
Nike
Phone Cards
Food Club cards
Store Branded cards