Never Miss a Headline: Retail-Focused Newsletter Introduced
A new, retail-focused email newsletter launched last week. The weekly newsletter is called Headlines and recaps the top stories from StoreLink to assist retailers in their efforts to stay informed about the news, tools and sales opportunities available from Associated Food Stores.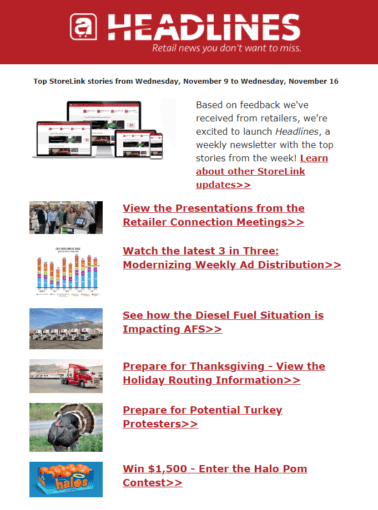 "We're very excited to launch Headlines as another platform to help our retailers," said Elizabeth Barnett, communications specialist and StoreLink manager. "We recognize our retailers are incredibly busy. Headlines arrives in their inboxes so they can know what StoreLink stories they shouldn't miss."  
The primary goal of the newsletter is to encourage retailers to visit StoreLink, not just for the tools there, but for the information and inspiration the site provides. The new StoreLink, launched earlier in 2022, allows for enhanced navigation, better security and more comprehensive and rapid updates. Updates and improvements to the new site are ongoing as retailers provide helpful user feedback and suggestions. 
"We are always looking for and listening to the input we receive from retailers and the team," said Elizabeth. "StoreLink continues to evolve as we make refinements. The increased attention and commitment to department updates is paying dividends and we encourage those who contribute to the site to keep up the great work." 
While the primary audience for Headlines is retail owners and store team members, corporate and distribution team members are encouraged to sign up for the newsletter if their responsibilities include understanding what information is communicated to retail. Please click here to sign up for Headlines.