Macey's Leaders Deliver "Thank You" Following Fire at Taylorsville Location
Macey's Celebrates Local Firefighters with Local Ice Cream Social 
On February 15, a fire started at the Taylorsville Town Center, home of one of Macey's locations. All team members and guests exited safely. The store safety systems functioned as designed and the store leadership team acted quickly and helped to evacuate the store safely. Multiple fire departments quickly responded to help.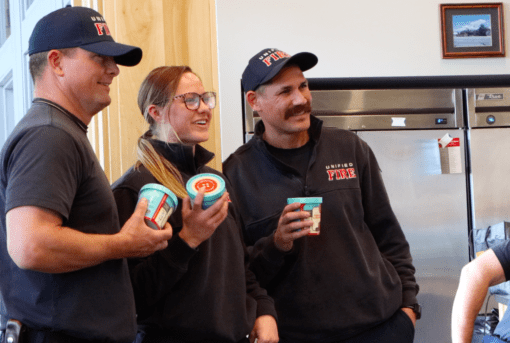 "We are incredibly thankful for the quick action and help from the local fire departments," said David Rice, president, ARO. "We thank the Taylorsville store team and many others for their urgent assistance."  
The store was temporarily closed but opened the next morning at 8 a.m. Minimal damage occurred to the interior of the store with minor product losses. As an expression of gratitude for the rapid response from several fire departments, leaders from Macey's visited participating stations with a special thanks and local, Red Button Vintage Creamery ice cream and pie. 
"At Macey's, we take our role in the community very seriously and are so grateful to have first responders who are always there to keep our team members and guests safe," said Darin Peirce, vice president, Associated Retail Operations.