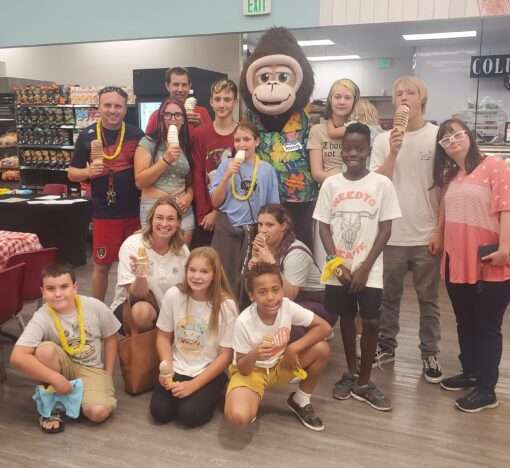 Many Macey's shoppers look forward to Kong's birthday all year. In fact, the timing of the celebration is a frequently asked question on Macey's social media channels. With continued demand, Macey's celebrated Kong's tenth birthday in all Macey's stores this past week.
All week long, store teams distributed stickers and coloring pages featuring the famous mascot. Then, on Saturday, August 13, the stores had Kong's big birthday bash. Cupcakes were served to guests that morning followed by a Kong Kone eating contest that afternoon.
The Kong Kone eating contest was the first in two years and guests were excited to reinvigorate the tradition. Guests in three different age groups competed to see who could eat the most of a Kong Kone in one minute.
Winners received free weekly Momma Kones for a year and a Kong t-shirt. Some stores even held a contest for their team members. To top it all off, Macey's posted its very first Tik Tok in celebration of Kong's birthday. The video can be viewed on Macey's Tik Tok page @maceys_store.
"It was a great hit, and we cannot wait to continue the tradition in the following years," said Jade Romero, marketing specialist at Associated Food Stores. Jade partnered closely with ARO leadership and store teams to facilitate the event.
Kong's history is a storied one. In summer of 2012, Macey's introduced a new mascot – a friendly ape named Kong. He is tied directly to one of Macey's strongest signature items, the Kong Kone and is utilized as an icon for both the signature item and the overall fun, kid-friendly environment that Macey's represents.