Macey's Bagger Wins State Bagging Competition
With music playing, the crowd cheering and announcers entertaining the audience with insightful interviews and playful banter, baggers from around the state gathered to put their skills to the test at the Utah Food Industry Association (UFIA) best bagger competition on October 19.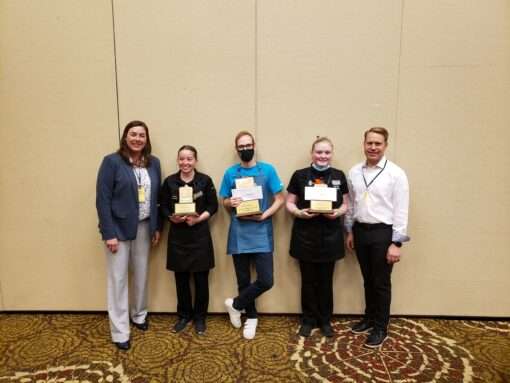 The competition was fierce, but fun and Macey's Bagger Justin Dea rose to the occasion taking the top spot after eight preliminary heats. Dea, who works at the Macey's in Pleasant Grove, moves on to compete at the national level in Las Vegas, Nevada in February of 2022. As a reward for winning, Dea received a cash prize and a grocery bag-shaped trophy. Two baggers from Harmons, Abbie Argyle and Amanda Gessel, took second and third place respectively.
During the competition, baggers are judged and receive points in four areas: speed (10 points), proper bag building technique (10 points), distribution of weight between bags (5 points), style, attitude and appearance (5 points).
At Macey's, baggers undergo a two to three-day training process. First, they learn the basics in the classroom, followed by eight to ten hours of shadow bagging. Then, after bagging on their own, they are frequently tested to provide continual reinforcement of proper bagging technique.
"The coaching and mentoring our team members receive is phenomenal," said David Rice, president of Macey's. "Our stores provide an atmosphere where team members can be successful at work and develop a pattern of accomplishment for life."