Macey's and Lin's to Launch New Commercials 
Being in extremely competitive locations, it has never been more important for Macey's, Lin's, Dan's, Fresh Market and Dick's Market to be top of mind for consumers. Each week, thousands of shoppers, and potential shoppers, see digital and traditional marketing messages highlighting weekly specials, ecommerce offers, holiday promotions and more.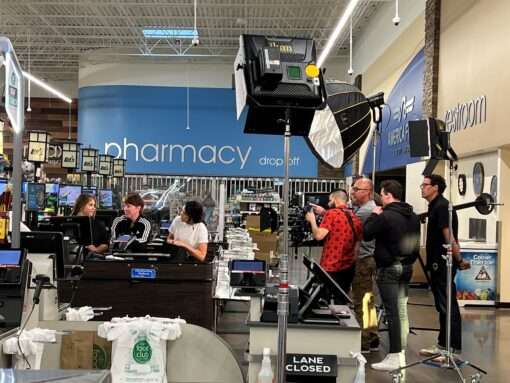 The Associated Retail Operations' (ARO) team and the Associated Food Stores' (AFS) marketing team continually collaborate to ensure the right messages are sent at the right time, through the most effective channels. Their efforts pay off as the group typically sees approximately [insert details] impressions each week. 
Part of the marketing portfolio for Macey's and Lin's includes strategic use of video. Last week, AFS marketing team members and the store team at Macey's in West Jordan provided an ideal location to shoot the next round of commercials for Macey's. Steve Skinner, district manager, and others were instrumental in preparing the store for the big day. Lin's commercials were filmed in the East St. George store and Steve Holm, district manager, and the Lin's team had the store ready and looking its best.  
With themes of "More than just grocery shopping" and "They get me," the new commercials target shoppers who seek great deals from a grocer that's approachable and makes them feel at home. The new commercials begin running on television and digital platforms in the fall.  
"It's a challenge to share all we want to communicate in 30 seconds, so dialing in a focused message is very important," said Heather Hall, marketing manager. "It takes a great amount of organization, teamwork and creativity on the part of so many people. We really appreciate everyone who contributed and look forward to sharing the finished results when they're ready."