When it comes to celebrating Valentine's Day, Lin's in Cedar City is at the heart of the fun.
Each year, the Lin's store team selects a theme and then goes to work to make the most of the holiday. This year, Produce/Floral Manager Lynette Probst and her team picked the theme of "A Groovy Kind of Love" based on the song of the same name by Wayne Fontana and the Mindbenders released in 1966. The theme was a basis for the team's in-store promotions and provided a foundation for the store's merchandising and activities.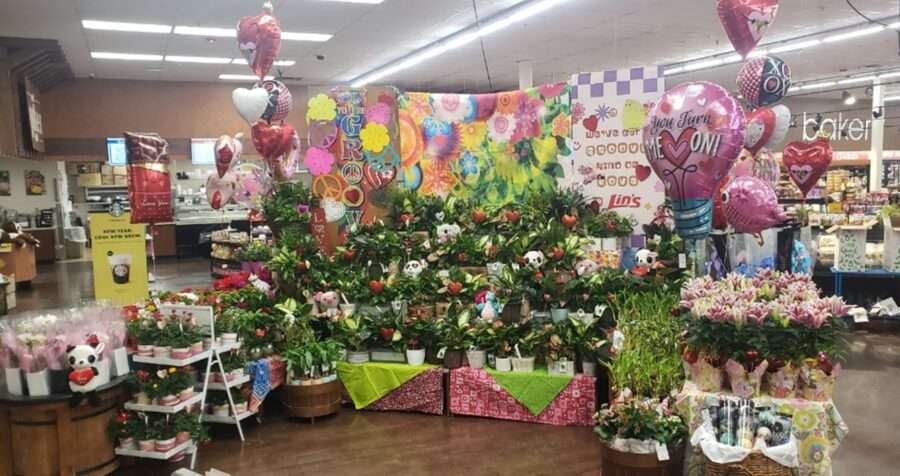 "They go all out every year and it pays off," said Steve Holm, district manager. "It is truly amazing to see what they do for their community. The floral department will likely see sales in the $70,000 range during the event."
Steve shares that guests come from near and far to purchase flowers and other holiday related items.
"In addition to our regular shoppers, we receive orders from the police and fire departments and other first responders," said Steve. "The team works so hard to keep up with demand."
The Lin's Cedar team begins preparations months beforehand and is up and ready nearly a week before Valentine's Day. The store offers flowers from the $10 to $15 range up to $300 and is successful in selling items at every price point.
"They have something to fit every budget," said Steve. "They have really made it possible for anyone to come in and find what they need to make it a special day."
While the floral department sings the lead vocals, other departments are involved in a big way. The bakery team offers a large variety of sweet treats and desserts. The meat department sells "sweetheart steaks" using two boneless ribeye cuts. The produce team highlights their chocolate-covered strawberries with center store selling candy and holiday GM items.
"It represents a complete team effort," said Steve. "I'm so happy with their dedication, commitment and extra effort. It makes a huge difference."