Key AFS Venture Reaches $1 Million in Sales
The centralized production initiative reached a major milestone recently as sales of products produced through the partnership with local provider Tall Hat eclipsed $1 million. 
Tall Hat is a centralized production facility located in Lindon, Utah. These facilities, sometimes called commissaries, are commercial-grade cooking and storage companies utilized by food service providers for large-scale product preparation and storage.    
Sales include totals from cheeseballs, soup, salsa, prepared entrée meals and other items that would typically require significant labor investment at store level. 
"It's amazing to see what the team has accomplished," said Bill Price, vice president of fresh foods. "Danerish Root, Thomas Brown, Danni Barnhart, Ryan Barnes, April Rice, Bryon Simonson, the procurement and distribution teams and, of course, team members at retail have all played integral roles in the success we've had so far. Plus, there are more opportunities as we continue moving forward."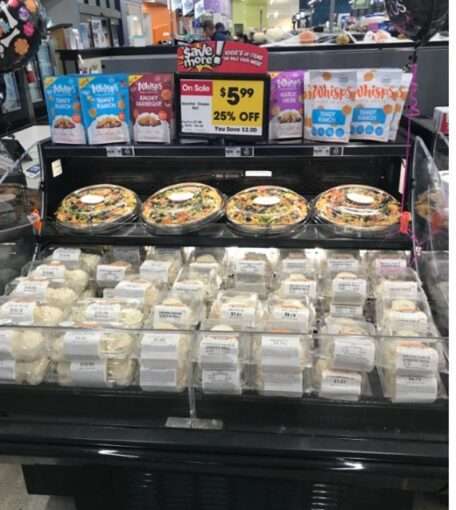 Examples of success are many. Last year, Danerish and other delicatessen team members tested the new cheeseball program at Dick's Market before rolling it out to all Associated Retail Operations (ARO) stores. Cheeseball sales were up 58 percent last year and 49 percent this Halloween season, with the most popular flavors being green onion and cheddar ranch.  
"Thank to contributions from so many, we more than doubled our cheeseball sales in the last two years," said Danerish. "It's taken a lot of work, but what started as a dream is beginning to pay off in a big way." 
Another example is the sales of fresh salsa. Danni and the produce team are seeing approximately 15 percent increases over last year and about a 25 percent increase in total salsa sales across the entire category. In fact, the produce team added the hot-selling pineapple mango salsa without cannibalizing any regular salsa sales resulting in even greater gains. 
"We are extremely excited to see the program working so well," said Danni. "It's not only leading to increased sales, but we're able to reallocate labor to helping customers which pays additional dividends in other areas." 
Entrée sales have passed $22,000 with three-cheese ravioli and chicken alfredo meals being the top sellers. Movement of the eight new soups are also brisk with sales of more than $24,000. Broccoli cheddar and loaded-backed potato flavors are leading the way. Sales of dips have just started and are poised to add even more sales as the Thanksgiving and Christmas holidays arrive. 
Along with ARO, many independent stores are carrying the products from Tall Hat including Broulim's and Clark's. 
"We see more member retailers coming on every week," said Bill. "It is so exciting to see it paying off for the retailers we serve."  
While there are many team members companywide who helped, special effort was made by Bill, Ryan, Danerish, Thomas, Bryon, Glen Keysaw, Terri Jensen, Darrin Pinkerton, Justin Johnson, Todd Bell, Kiersten Cordingly, Steve Johnson, Rhondda Bagley and others.