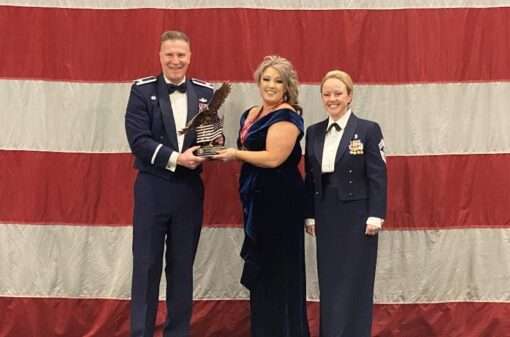 Kati Calhoun, from Kent's Market, has recently received multiple accolades for her work in supporting military families.
The 419th Fighter Wing stationed at Hill Air Force Base recently hosted its annual Outstanding Airman of the Year ceremony. At the ceremony, Kati was given the "Volunteer of the Year" award.
Operation Homefront, a national nonprofit organization that helps build strong, stable, and secure military families, honored Kati with the "Operation Homefront Volunteer of the Year" award. Operation Homefront distributed gift cards and meal kits complete with all the essentials for a traditional holiday meal to military families at the Kent's Market parking lot in Roy, Utah on November 11, 2022. During the annual Holiday Meals for Military®, Operation Homefront will put meals on the tables of more than 17,000 military families nationwide. It was the fourth time Kent's hosted the impactful event with Kati playing a major leadership role.
Finally, KBULL 93, a country music station headquartered in Salt Lake City, Utah recognized Kati as the "Hometown Hero of the Year."
Kati is part of Kent's Markets' executive team and is responsible for marketing, human resources, training and safety at six different locations throughout Northern Utah.