Looking Fly in Farr West: Distribution Team Barber Brings Out the Best 
When you see the sweet style of many Farr West Distribution Center team members, you can almost guarantee they visited "AFS Impress" and saw Hector.  
Since 2018, on any Tuesday, Wednesday, or Friday at the Farr West Distribution Center, you'll find Hector ready with his shears and clippers, cutting the hair and trimming the beards of team members in his barber shop, AFS Impress.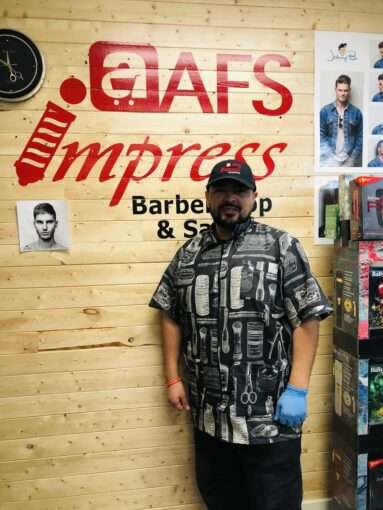 Hector started at the distribution center in 2008 when he was a 21-year-old selector. On his days off, he taught himself to cut his son's hair, using cheap clippers and realized he really enjoyed cutting hair. When someone suggested he go to school, he was shocked to find out he needed formal instruction but ultimately decided it was a good investment. Hector juggled full-time work and school for over a year but ultimately finished and became the school's first barber to graduate with honors, never missing a day.  
After graduating, Hector worked from his house and rented space in another salon before he was presented with an amazing opportunity at the Farr West Distribution Center. When the gym was being built in the facility, Hector asked about putting in a salon. There was some hesitation but ultimately, they took part of the trucker lounge and opened AFS Impress in September of 2018.  
Business for the barber shop was booming with both team member and outside clients until COVID-19 hit. To keep the team safe, outside clients and family were no longer allowed in the shop. Hector had to improvise and make house calls, which helped build up his clientele. He also saw a surge in team members visiting him, as a lot of the barber shops and salons were closed.  
Today, AFS Impress is still limited to team members, but Hector has built a very loyal client base and is typically booked each week. He talks sports, work and plays pseudo therapist while keeping the distribution team looking awesome.  
Hector has built a culture that is extremely rare. His passion and talent for cutting hair, along with his charismatic personality, make his barber shop one of the most popular spots in the distribution center. When Hector isn't cutting hair, he spends time with his 15-year-old boy and three-year-old twins. If you get the chance and need a great haircut, stop by and see Hector at AFS Impress.