AFS Attends "Together Again" Fall ROFDA Convention
During the last week, members of the AFS Executive attended the first in-person ROFDA event since the pandemic started. In attendance were Bob Obray, Roger White, Wade Judd, Tim Conner and Jason Sokol.  
ROFDA stands for Retailer-Owned, Food Distribution Association and is made up of representation from Associated Food Stores, Affiliated Foods Amarillo, Associated Grocers of Baton Rouge, Associated Grocers of New England, CERTCO, Piggly Wiggly, URM (Spokane, Washington), and Associated West Grocers. In addition to the wholesalers, there are representatives from Topco, NGA, several national consumer packaged goods companies (CPGs) (including Kraft, General Mills, etc.), as well as other suppliers (including Decorworx, Rosie, and many more).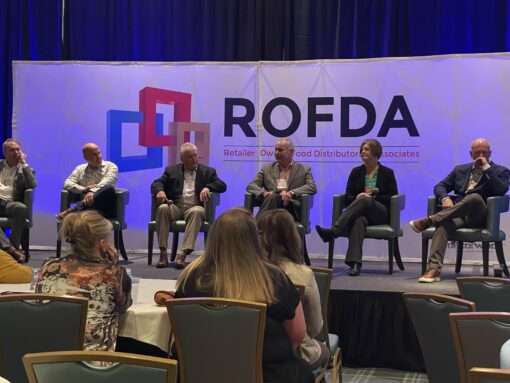 One of the main purposes of ROFDA is to bring teams together from across the participating wholesalers to discuss ideas, share solutions and work on projects together. Teams representing Information Technology, Procurement/Category Management and Human Resources attended the conference. Below are some of the topics covered by each of the groups: 
Human Resources – discussed current hiring and retention challenges faced at wholesale and retail, as well as OSHA's current emergency temporary standard concerning vaccinations and testing

 

Information Technology – covered current supplier challenges, allocation strategies and possible supplier fees

 

Procurement/Category Management – shared thoughts and challenges covering everything from shopper facing technology and benchmarking to cybersecurity

 
During the event, the CEOs representing each of the wholesalers participated in a Q&A event where they answered questions from the audience. There was a broad consensus around the future of ROFDA. The ROFDA board is committed to the future of ROFDA and is actively gathering feedback from key members of ROFDA to make sure the purpose, vision of ROFDA are being met. 
"ROFDA is a learning environment," said Bob Obray. "We gather to share and learn about the many challenges we face and the solutions we discover to help us all grow together. We are here to build relationships and ultimately help independent grocers thrive." 
The ROFDA share groups are a great resource and one of the most important parts of ROFDA. They give our leadership teams a resource to bounce questions off one another, to get advice and help from others who are dealing with similar situations. 
"One of the greatest assets of ROFDA is the intimacy; the relationships that are built; and the ability to work together toward positive solutions," said Bob.