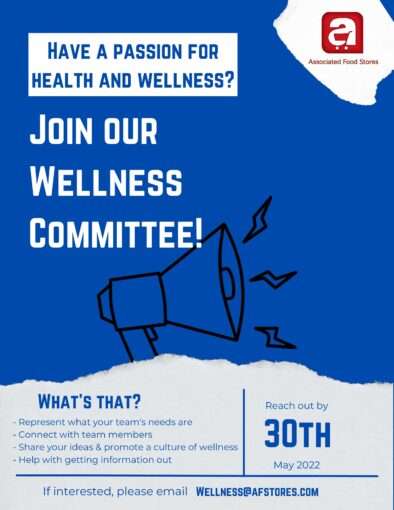 There are over 5,000 team members at Associated Food Stores and each member has their own lifestyle, health concerns and fitness goals. Associated Food Stores currently offers a wide variety of resources to promote health and wellness in the company – whether financial, physical or mental – to make sure team members have the resources they need to live a healthy life. Danielle Healis, the company's full-time wellness facilitator who oversees all these efforts said, 
I have a passion for wellness.
And it's not just about exercise, we need to care about the physical, mental, emotional, financial, social well-being of everyone who works here."   
To help Danielle accomplish that goal she is putting together a wellness committee made up of team members from across the company, "Since we are such a large company, it is difficult to know what needs people have and the best way to communicate information to everyone." She is looking for 8 – 10 team members who have a passion for wellness and can help her understand the unique needs of team members, "We will meet virtually each quarter to identify needs, share ideas, and make sure the information is getting out. The goal is to meet team members where they're at!"   
If you are interested in joining, please email wellness@afstores.com by May 30, 2022.