Help Children Have a Happy Holiday
Associated Food Stores is helping with the Community Christmas Sub for Santa drive this year and AFS team members can participate by purchasing items from local children's wish lists.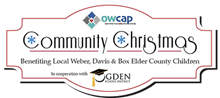 "We have helped them the last three years and it was a great success," said Denise Ward, executive assistant. "We have agreed to help 25 children this year and everyone's participation is appreciated."
Denise has a request list for children segmented by age groups. Team members can purchase some, or all, of the suggested items on the list or choose other appropriate items. Team members may work alone, as a department or a group of friends to contribute. Payment can work through payroll deduction or team members may donate money and have someone else do the shopping. Please contact Denise for details at ddward@afstores.com.
Community Christmas benefits over 2,000 children and their families in the Weber/Davis/Box Elder Country area, not already receiving Christmas assistance.