Members of Associated Food Stores' (AFS) executive team were invited to meet Alvaro Bedoya, Commissioner of the Federal Trade Commission, and two of his aides, on Monday, April 10 at AFS' corporate office.
The meeting included a heartfelt discussion from Bedoya. Bedoya expressed support for independent grocers, proclaiming the essential position local grocers have in both rural and urban areas by providing services like fresh foods and pharmacies, as well as keeping the market in check regarding pricing for consumers.
Associated Food Stores' President and CEO, David Rice, led the discussion and shared the history of AFS and the spirit of the independent retailer. "The ultimate role for why Associated was founded 80 plus years ago was to help independent grocers in the Intermountain area compete on a level playing field with large regional and national grocers," said David Rice. "Today, we see a need for AFS to double our focus on this mission and to do all we can to fight for our independent grocers." He expressed the critical role grocers play in their communities and the challenges independents face with access to fair and equitable buying opportunities.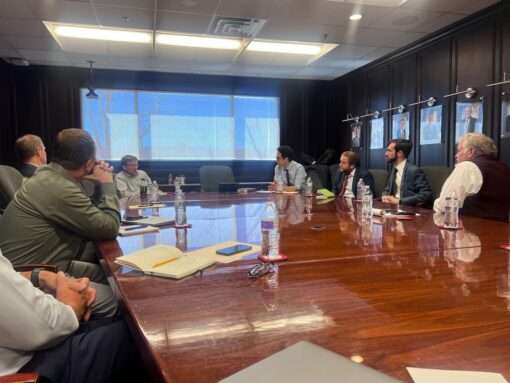 Roger White, executive vice president and COO for Associated Food Stores, further stressed the obstacles independent retailers face. Justin Atwater, executive vice president and legal counsel, discussed unfair pharmacy benefit manager (PBM's) practices relating to DIR clawbacks and reimbursements. (A PBM is a third-party administrator of a prescription drug program that is primarily responsible for processing and paying prescription drug claims. DIR clawbacks are when the PBM charges a DIR fee after the point of sale.) Steve Miner, president of AFS' Market Development Inc., updated the commissioner on challenges regarding the Kroger and Albertson's merger related to the proposed single acquiring entity (to be formed) called "SpinCo" that would exclude independent retailers from bidding and acquiring approved divested stores by Kroger and the FTC.
The positive discussion was encouraging and the first in AFS history with the FTC. The AFS executive team expressed a continued desire to partner with the FTC as the company helps bring awareness regarding fair business practices for all wholesalers and retailers. "As this and other topics evolve, the AFS Executive Team will be working closely with our Board of Directors to ensure we remain true to our founding mission and that all of AFS' independent grocers are fairly represented," said Rice.