This year, Associated Food Stores introduced the "One Associated Award." As the company's premier team-member recognition, the award is presented to a team member who exemplifies leadership, commitment and heart in driving the mission of Associated Food Stores to enrich lives, one grocer, one family, one meal at a time.
Duwayne Warren is the first recipient of the One Associated Award. He was given the award at the annual meeting and was featured in this year's annual report.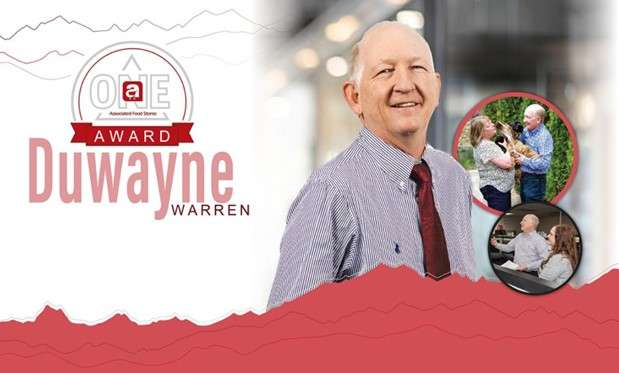 Duwayne was introduced to Associated Food Stores like many team members, through family. His father was a driver for AFS. As a young man, Duwayne got a job in the only place at an AFS warehouse hiring 16-year-olds, the cigarette room. Duwayne pulled and stamped boxes in preparation for shipping them to retail. 
From 1985 to 2007, Duwayne worked in all areas of grocery and general merchandise, selecting, forklift operation and receiving. For many years, Duwayne worked a full shift for Associated Food Stores and then spent additional hours unloading trucks for carriers delivering to the AFS warehouse. 
Currently, Duwayne is the customer service manager and is a critical contributor to a smooth-running and efficient system. He and his team form a vital connection between distribution, transportation and procurement. Calls to Duwayne are often the first contact retailers make when additional support or troubleshooting is needed and his commitment to retail satisfaction is legendary.  
Duwayne is often referenced as the glue bonding One Associated together. He is integral to the success of Associated Food Stores' member retailers and team. He has developed hundreds of relationships at retail and AFS to facilitate problem-solving and develop solutions. Those who work with him know, once Duwayne is on the case he will not rest until it is resolved. Duwayne is the living embodiment of One Associated and an example for all to follow.