After 49 years in the grocery industry, members of the Associated Food Stores' team gathered with both joy and a hint of nostalgia to celebrate the retirement of their beloved colleague, Mike Leger last week. With more than two decades dedicated to DeJarnett Sales as an account manager, Mike has decided to close this memorable chapter and embark on a new journey.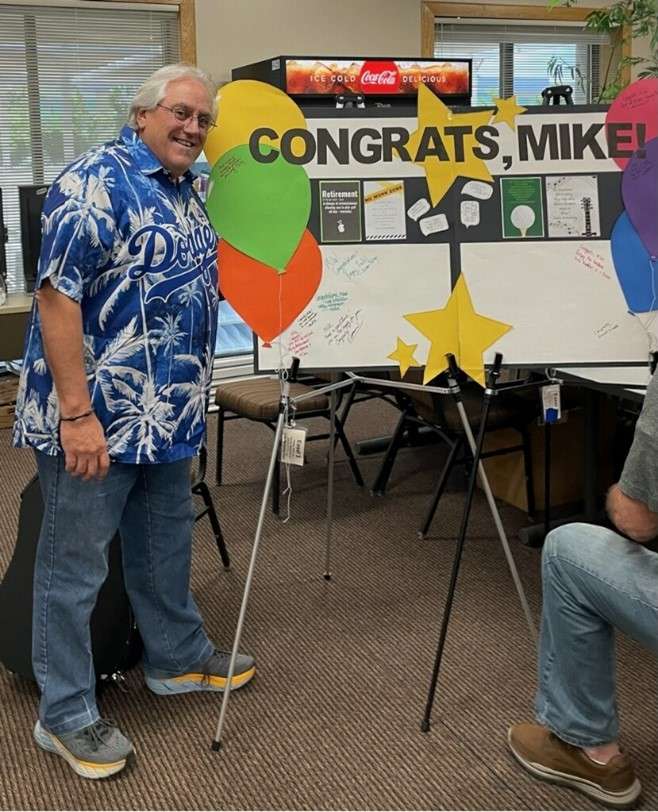 Throughout his time with the company, Mike has been the true epitome of dedication and passion. His commitment to providing exceptional service to AFS and its member retailers has left an indelible mark on the organization. From building lasting relationships with valued partners to spearheading remarkable projects, Mike's contributions have been nothing short of extraordinary. 
The celebration last week was a heartfelt opportunity to reminisce with Mike, as well as to extend warmest wishes for his well-deserved retirement. Attendees greeted Mike, signed a farewell poster and shared cherished memories that have been built together over the years. With Mike's infectious laughter and cheerful attitude, there was no shortage of fun and camaraderie. From navigating the ever-changing grocery landscape to witnessing Mike's delightful singing voice light up the office, every moment spent with him was a treasure. 
"Mike was my manager when I was a 16-year-old bagger at Dick's Market," said Associated's Bret Gallacher. "I wish every new retail employee could learn how to work and take care of a customer from Mile Leger. Under his direction I learned about integrity, teamwork, and the joy we all discovered from working in the grocery industry. Since then, I have considered Mike one of my dearest friends and mentors. I will personally miss our conversations, but if anyone deserves a peaceful and relaxing retirement, it is Mike and his sweet wife Leslie!" 
While the team will undoubtedly miss Mike's daily presence, they wish him all the best in his well-deserved retirement and his future endeavors.