Bob Obray Visits Ken Macey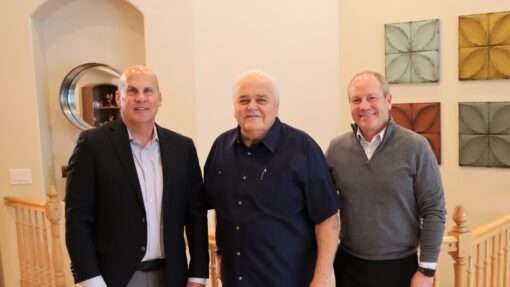 On a chilly winter morning, Bob Obray, president and CEO of Associated Food Stores, knocked on the door of an attractive, suburban home in Draper, Utah. When the door opened, Bob was greeted by a seasoned, energetic man he had only met once previously, but with whom he shared much in common. Bob was there to meet with Ken Macey. Ken is the son of Walt Macey, founder of Macey's grocery stores. 
Ken and Darin Peirce, vice president of ARO and Ken's son-in-law, welcomed Bob into a spacious room with large smiles and enthusiastic handshakes. Bob's visit was prompted by the passing of Ken's wife, Robin and the conversation quickly turned to Ken's spouse of nearly 60 years. 
Ken met Robin in 1960, when they were in high school. Ken said, "I ran with a slightly rougher crowd" and expected rejection when he nervously called Robin to ask for a date. To Ken's surprise, Robin said she, "would love to go out" and a time was set. Ken picked up Robin in an old Buick and took her to Lagoon. One trip to the amusement park led to many others where the young couple enjoyed the rides along with concerts featuring Louis Armstrong, the Beach Boys and other popular bands of the day. 
In 1965, the day after Ken turned 21 years old, he and Robin married. (Ken was adamant he wouldn't marry until his parents didn't have to "sign for him.") By this time, Ken had worked at his family's grocery store for many years, beginning as a bottle boy at age eight. Ken shared fond memories with Bob of his father's dedication and mother's commitment. Thoughts of his mother spending evenings hand-painting signs for the store, after a full day caring for spirited children, brought tender emotion to Ken's voice as he expressed gratitude for his hard-working parents. 
Like his parents, Robin and Ken made an equally impressive team as they navigated the challenges of a young family and grocery store ownership. As Ken grew older, he took a larger leadership and operations load, with his parents dedicating more time to serving on industry boards and business groups. During these years, Ken learned his spouse was his greatest confidant and counselor. 
"Robin was very private, but she had a heart bigger than a house," said Ken. "I would ask her tough questions about the business and she would respond, 'let's go for it!' or 'let's do it!' with full confidence in what we were attempting to do." 
Ken found other strong allies in his team members. "I'd put our team up against anyone," said Ken echoing what one might expect to hear from Ken's friend and legendary Brigham Young University Football Coach Lavell Edwards. "The team made it happen." 
Ken's eyes filled with tears as he thought of past Macey's team members. "I quickly learned I needed to focus on the people more than on the bottom line," said Ken. "Employees are the most fun part of the business. They become family and make it easy to love work." 
Bob asked Ken for his thoughts on today's Macey's team and Ken paused before responding with four simple words. "I'm proud of them." He then proceeded to say he is happy when he sees team members who take pride in their work, who show they love their jobs and who provide the guest service that makes Macey's unique. He also expressed appreciation for his family, including Darin. 
"We asked Darin and his family to make many, many sacrifices over the years," said Ken. "We asked him to do many challenging, difficult things and he rose to the occasion time after time." 
Ken continued with advice for the entire Associated Food Stores' team about the importance of priorities and focus. "When it's time to work, we work. When it's time to play, we play."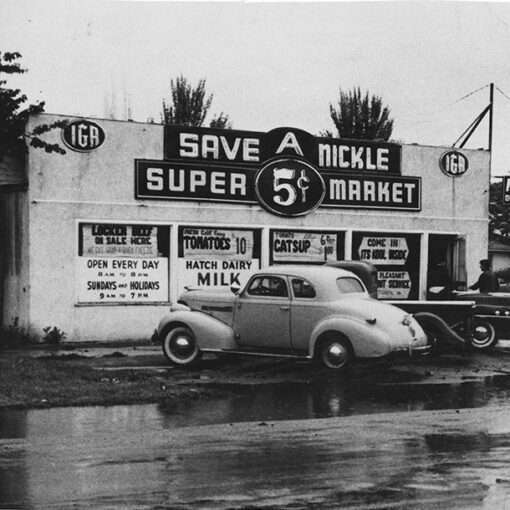 As Ken, Bob and Darin concluded their conversation, Ken expressed understanding for the challenges of the grocery business recalling many nights listening to his mother and father worrying about the numerous trials and decisions that came their way in the early years. 
"I learned to base decisions on principles of honesty, integrity and commitment," said Ken. "Many have said, 'their days are numbered' but we found if we keep great people and provide a good working environment we can accomplish anything." 
Before Bob departed he said to Ken, "I believe I can speak for the retail members and team members of Associated Food Stores' in thanking you for your tremendous contributions to our company. The Macey's brand is one of our strongest entities and we appreciate the great legacy you began so many years ago."