AFS Retailers and Teams Collaborate for Case Lot Success 
For many years, Associated Food Stores' (AFS) retailers have had successful case lot sales. However, with COVID-19 still impacting consumer buying behavior, this year's case lot sales are perhaps more popular than ever.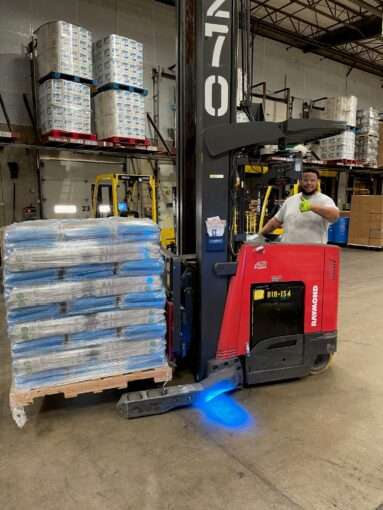 To manage demand, AFS splits case lot into two time periods. The first sale ran from Sept. 8 – 21 with the second sale running from Sept. 29 – Oct. 12. Individual retailers and groups select the time they feel works best for them. While case lot sales typically happen each fall and spring, planning for the promotion happens many months earlier.  
Todd Bell, vice president of procurement, explains,
"It's different since the pandemic hit. About four months out we send projections to manufacturers for what our needs will be. We give manufacturers a couple of weeks to approach each supplier with our projections and ask them to commit to having supply. Once we have details back, we start placing our purchase orders and arranging delivery dates."  
Once details are arranged, all stores are asked to commit pallets and shippers around the July 4 holiday. Open-stock orders are highly recommended at this same time. 
"We want product flowing in so we don't hit Farr West all in one shot," said Todd. "Preparation, planning and execution is critical when it comes to any case lot promotion. If we cannot execute on our side, our fill rates aren't high and it doesn't allow retail the time they need to be ready on their side. Service levels for case lot are at 95 percent, which given current challenges, is phenomenal, but we will always strive to be even better." 
With product purchased and shipped to the AFS Distribution Center, the team in Farr West takes the next steps. Transportation and distribution center operations work closely together to rent additional trailers, work through schedules, build necessary labor, select and load product and finally, deliver it to stores. Justin Johnson, Farr West general manager, explains that case lot sales provide opportunities for team members to set personal records as they fulfill orders. 
"It's a busy time, but through solid planning, we manage well," said Justin.
"It's a rite of passage. You know you're a good selector when you master case lot and there are incentives, t-shirts and recognition that come from what we call 'smashing out' a case lot day. Plus, it's exciting for me when I get a call from Craig, the store director at Macey's in South Ogden, who calls and thanks us for our hard work. It's really fun to see it all come together." 
Before drivers leave the distribution center, retail teams are already planning for their part in the effort. As in every stage, case lot execution at retail starts with in-depth planning. Stores receive a list of featured items and the store director strategizes with the grocery manager and others to ensure the team is ready.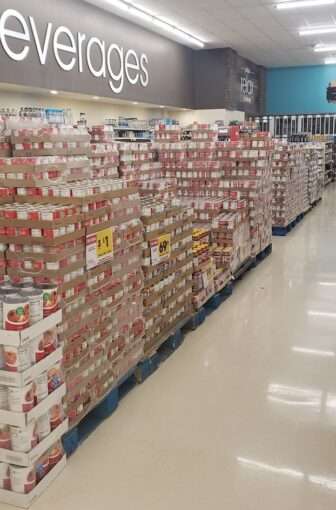 Steve Holm, ARO regional director, shares a few examples from the stores he leads in Southern Utah. 
"Lin's in Richfield receives seven full trucks. Before those trucks arrive, the store director and team know where every pallet goes," said Steve. "A master spreadsheet and strategic floor plan ensures the team knows where pallets will go so they are ready when the trucks arrive." 
When product is delivered, team members may work up to 10 hours unloading and stacking according to the plan. Smaller stores, like the Lin's stores in Cedar City and Washington County, get team members from each department to help.  
"From the front end to the coffee shop, all departments have an opportunity to help out," said Steve. "It's great to be part of it all coming together. It makes you grateful for the buying team, logistics, the distribution center, the drivers, the advertising and marketing teams and so many others. Hats off to the entire team, regardless of where they work, for their effort. The magnitude of a case lot sale can be scary, but to have the teamwork together to be successful is remarkable. It's an outstanding, beautiful presentation." 
While retail teams are finalizing plans and setting displays, marketing, and advertising teams are seeing their work hit homes and phones, websites, and media channels. Print and digital tools are used to maximize the case lot message. 
"We work to have the case lot message seen by as many store guests and potential store guests as possible,"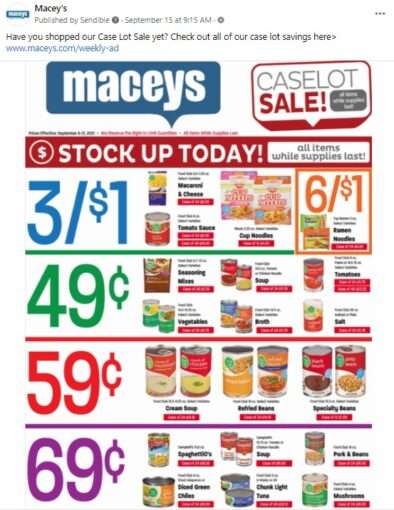 said Jason Sokol, vice president of marketing. "In today's world, we use a strategic mix of media tools to drive shoppers to our stores and to our online ecommerce sites. With an exciting event like case lot, stores have the potential of reaching thousands of shoppers on social media and tens of thousands using paid digital advertising. For example, ARO reached about 4,000 households per store using paid social and approximately 42,000 households per store using paid digital advertising. Today's digital marketing tools enable stores to reach a broader audience than ever before."  
While results are still coming in, sales for the 2021 fall case lot promotion are impressive. Results are up over last year, which, given high consumer demand and pandemic buying behavior in 2020, is remarkable.