Members of Associated Food Stores and Associated Retail Operations (ARO) were winners of Rosie awards this week for the stores' phenomenal eCommerce efforts. Rosie, Associated Food Stores' partner for eCommerce solutions, recognizes best-in-class grocery eCommerce programs in its annual Rosie Awards.  
Local grocers were honored across twelve different categories for their eCommerce growth, operations efficiency, and marketing innovation to help drive increased profitability for their stores in 2022.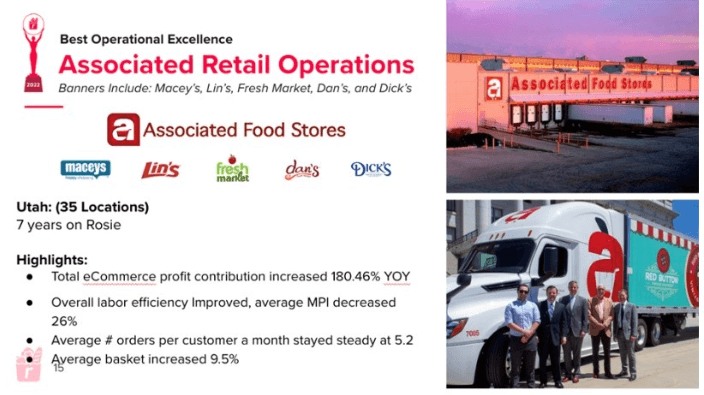 Union Market in Idaho Falls, Idaho was named "Best New Rosie Retailer of the Year" and Yoke's Fresh Market in Missoula, Montana won the "Highest Performing Retailer" award. 
Clark's Market, with stores in Snowmass Village, Crested Butte, Telluride and Norwood, Colorado along with a store in Blanding, Utah, won for "Most Out-of-the-Box Marketing Panels."
"We know that the key to our loyal customers is an experience that can't be replicated anywhere else. In the online shopping world, it's really clear that many of the reasons people do online shopping is convenience," said Samantha Johnston, marketing strategist for Clark's Market. "If we are not also convenient, our customers will choose someone else. They have other options in the market, so we have to provide a customer experience that is consistent and convenient." 
Macey's was acknowledged with the "Lowest Out of Stock Rate" award and all of ARO was presented the "Best Operational Excellence" award 
"We know this year has been tough with supply and transportation issues, but during all that, we were able to reduce our out-of-stock rate from 6.65 percent to 2.48 percent quarter to date in Q4," said Brandon Allred, CRM operations, ARO. "We were also able to increase our eCommerce profit contribution by 180.46 percent year over year. This has not been an easy feat for our eCommerce teams, but with their passion to give the best guest experience and drive average basket size we accomplished it." 
"This year's award winners are being recognized for truly outstanding efforts these past 12 months. Their e-commerce work has significantly enhanced how their customers shop for groceries in-store and online," said Nick Nickitas, founder of Rosie, an Instacart company. "They are some of the hardest working, humble and dedicated people we've met in the industry and they truly embody the commitment to serving their communities. They work day-in and day-out to put fresh, healthy food on tables." 
"It's inspiring to see how this year's winners are developing unique and creative opportunities to engage with their customers. They are translating their unique brand and customer services found in-store to the digital landscape to meet their customers where they shop, when they shop," said Haley Sammis, head of account management for Rosie, an Instacart company. 
Retailers interested in learning more about Associated Food Stores' eCommerce program are encouraged to contact Thomas Horne at tbhorne@afstores.com.