The retail services team, which includes the retail counselors and specialists, had a two-day training experience this week at the Farr West Distribution Center. The purpose of the training was to educate and inform the team about many of the key initiatives and major projects impacting retail in 2023 and beyond.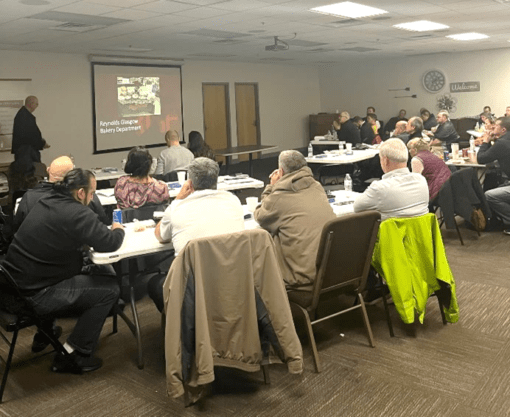 Topics for the sessions included warehouse modernization, data sharing, centralized production, exclusive brands, Fresh IQ, technology (including computer-generated ordering) along with digital marketing and rewards. 
"This retail services team is the key communication team to help inform our retailers about AFS programs, procedures and best practices," said April Rice, vice president of retail support. "Everything we do at AFS is funneled through this team, from AFS to our retail membership and from the retailers back to the AFS team. They play a key role in helping our retailers be more successful and for our AFS team to know what is working at retail and where we might need to make adjustments for AFS to be more retail relevant." 
The retail counselors and specialists are some of the key contacts and contributors in working closely with Associated Food Stores' member owners and their teams. Each retailer is connected to one of the experienced retail counselors who is there to guide them and tailor their experience with Associated Food Stores. 
Retail counselors collect and share details about AFS programs and recommendations that are relevant to store management. Recommendations generally include sales, margins, market share, expenses, customer count, profits, productivity, return on investment, distributions, cash flow, retail pricing, inventory turns, shrink and security along with many other opportunities. 
Sales specialists also provide guidance and expertise that is department specific. Specialists focus on bakery, delicatessen, produce and meat departments. 
"I want to thank the AFS team members for taking time out of their schedules to keep the retail service team up to date on our AFS initiatives," said April. "I also want the retail service team to know how important they are to the entire system. I am so grateful for each of them and what they provide to our retailers."