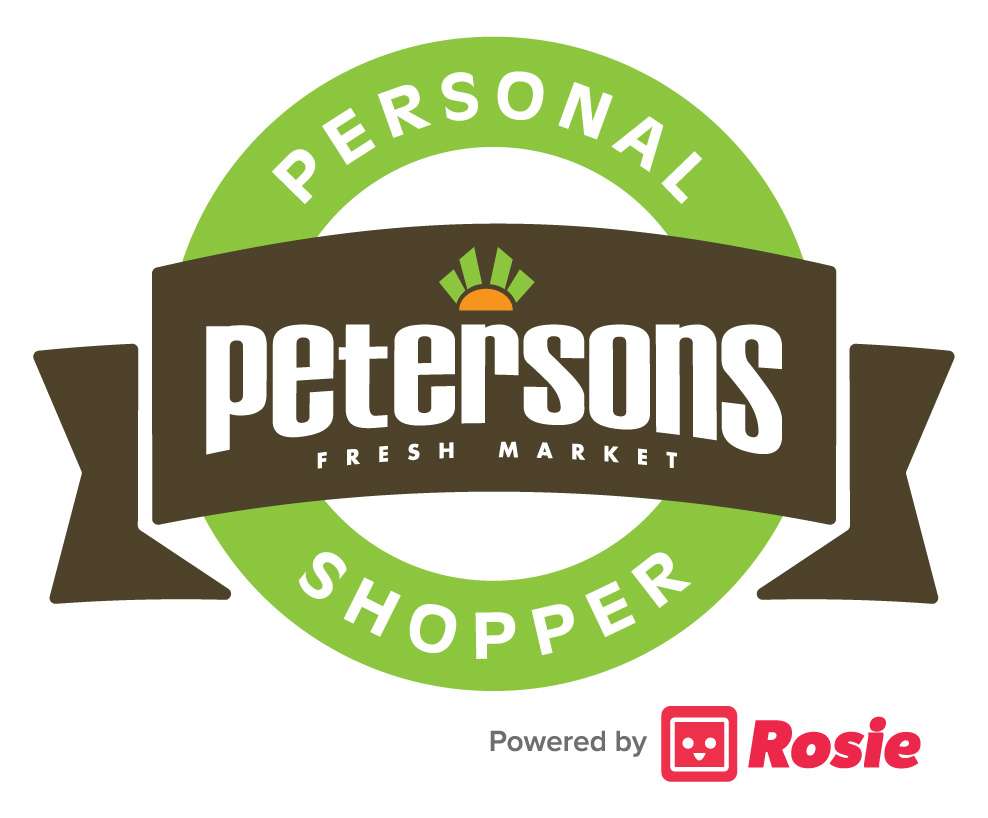 FOR IMMEDIATE RELEASE
Peterson's Fresh Market Goes Digital with Peterson's Personal Shopping
Local grocer brings online shopping and curbside pickup and delivery
Riverton, UT (March 1, 2017) Grocery shopping in Riverton is a little easier now thanks to Peterson's Fresh Market. The community-favorite grocery store launched Peterson's Personal Shopper powered by Rosie today. The service allows shoppers to order their groceries online and schedule a time to pick them up or have them delivered to their home or business. Peterson's Personal Shopping is designed to offer convenience to time starved guests and give families the opportunity to spend more time doing what they love instead of grocery shopping. First time users can waive the convenience fee by using the promo code FREEPICKUP for curbside pickup or receive a discounted delivery rate by using promo code DELIVERYSAVE on their first order.
"We are excited to offer additional convenience and service to the friends and neighbors that shop our store and support our community," said Monte Peterson, owner of Peterson's Fresh Market. "This is a digital shopping experience, but we hope that it has the feeling of friends helping neighbors and that online shopping can be just one more personal touch that makes Peterson's great."
Peterson's Personal Shopping makes grocery shopping simple with curbside pickup and delivery options. Shoppers can take advantage of the service in four easy steps:
1. Visit www.petersonsfreshmarket.com and click on Peterson's Personal Shopper to create a free account.
2. Select which groceries they'd like and leave special instructions for appropriate product substitutions (in the event of an              out-of-stock) or produce quality (like green or extra ripe bananas).
3. Pay online and choose a pickup or delivery time between 11 a.m. and 8 p.m. daily
4. Stop at the store, park in one of the curbside spots and text the personal shoppers to bring the order out to the car—or wait          for your order to be delivered right to your door.
"Peterson's Fresh Market has developed a completely unique online grocery shopping experience for the Riverton community," said Nick Nickitas, Chief Executive Officer of Rosie. "Place an order on your mobile phone, tablet, or laptop and Peterson's professional personal shoppers hand-select Certified Angus Beef and the best, farm-fresh produce according to each guest's specifications. They will even load the groceries into your car or deliver them right to your home. Peterson's is bringing their store to your door."
###
About Peterson's Fresh Market
Peterson's Fresh Market in Riverton, Utah has been family-owned and operated since 1938. Today the store is run by Monte Peterson and Jan Horrocks. Family oriented, the full service grocery store offers the finest fresh foods including USDA Certified Angus Beef, top quality produce, a scratch bakery, a unique deli with delicious ready to eat entrees and a compounding pharmacy. To learn more about Peterson's Fresh Market, visit www.petersonsfreshmarket.com.
About Rosie
The industry leading online grocery shopping platform for mobile and web, Rosie launched in 2012 and today enables customers to shop online from their favorite local stores for same-day delivery or in-store pickup. Rosie partners with leading independent retailers and their wholesalers to provide eCommerce, delivery opportunities, omni-channel marketing and deep data services. Rosie serves as the preferred eCommerce partner by a variety of wholesale cooperatives, such as Associated Wholesale Grocers (AWG), Associated Food Stores (AFS), CERTCO, Olean Wholesale Grocers, and Associated Grocers of New England, and powers the online shopping platforms of major local retailers like Niemann Foods Inc., Broulim's, Macey's, Clark's Market, and Buehler's Fresh Foods. IBM selected Rosie as the Top Startup in North America in its 2014 IBM Smartcamp Competition. Visit rosieapp.com for company information and to sign up for a free account. For Rosie news and downloadable media assets, visit here. To see firsthand what retailers and their customers think about Rosie,  check out this video. Like us on facebook. Follow us on twitter.
Media Contact
Rachael Wabel
rmwabel@afstores.com
801-978-8913