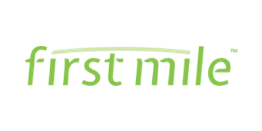 FOR IMMEDIATE RELEASE
Macey's Brings Groceries to Your Door with FirstMile
Utah companies partner to bring grocery delivery to Sandy and Pleasant Grove shoppers
Salt Lake City, UT (April 3, 2017) Shoppers in Sandy and Pleasant Grove can now have their groceries delivered right to their door thanks to Macey's and FirstMile. The Utah companies are partnering to add delivery to the grocer's already-available online shopping service, Macey's Anywhere, powered by Rosie. The delivery pilot program is designed to help those who are short on time or have limited mobility get the groceries they need in a quick and convenient way.
"We are so excited to bring home delivery to our Macey's Anywhere shoppers in Sandy and Pleasant Grove with FirstMile. This pilot program is going to make grocery shopping at Macey's even more convenient for our busy guests," said Ashlee Johnstun, customer relations manager for Macey's. "Partnering with FirstMile for delivery was a natural fit. As a Utah company, they understand our commitment to serving our communities and providing quality service."
Guests can take advantage of the $10 delivery service by simply placing an order with Macey's Anywhere. Instead of selecting a curbside pick-up time, they'll choose a two-hour delivery window Monday through Saturday. Macey's Sandy and Macey's Pleasant Grove will make deliveries to homes within 10 miles of the stores using a dedicated FirstMile driver and truck to ensure each order is delivered on time and in top quality. To learn more about Macey's Anywhere delivery and to place an order, visit maceys.com/delivery.
"This type of delivery is new for Utah and we are excited to be leading the innovation," said Devin Johnson, Founder and CEO of FirstMile. "With the demand for grocery delivery and other same-day solutions growing exponentially, FirstMile is proud to already be in a position to leverage its existing technology and infrastructure to meet those needs."
###
About Macey's
In 1947, Walt Macey and Dale A. Jones started the "Save-A-Nickel-Market" in Rose Park, Utah. Macey's grew from a small store into a multi-store chain by providing personalized old-fashioned service. Known for their famous doughnuts and Kong Kones, Macey's grocery stores offer a made-from-scratch in-store bakery, delicatessen, full-service grocery, meat, produce and non-foods department and above all, friendly service. For more information visit maceys.com.
About FirstMile
FirstMile was established in 2012 in Salt Lake City, Utah by Devin Johnson to fill a need in the E-commerce logistics industry. FirstMile specializes in complete front-end solutions for domestic and international shippers in the E-commerce and other direct-to-consumer industries. With a wide array of products, FirstMile can provide everything from economy shipping solutions to overnight and even same day delivery options. FirstMile is continually evolving to not only meet the needs for their customers today but also ready to provide them answers to tomorrows challenges. Learn more at firstmile.com.
Media Contact
Rachael Wabel
rmwabel@afstores.com
801-978-8913